Latest from WAOTNC
Friday, July 7 2006
Porch'd!
Yesterday, right before I left for work, I caught a news story about an old man who'd accidentally crashed his car into someone's porch. It had happened in Dearborn and I waited to find out on what street it had taken place. Two of our podcasters live in Dearborn and I was wondering if this might have occurred near them. No one in the house was hurt, since the residents were on vacation. The old man however is in serious condition. The reporter never did give a street name.
The following day, just a moment ago, I got an e-mail from Joe.
Greg is on vacation. Houghton Lake or wherever he goes. He calls me at 12:30pm yesterday on my cell. He had just found out that, within the hour, his 92-year-old neighbor across the street came out of his driveway and rammed into Greg's porch and garage at 55 miles per hour! He's lucky nobody was home. I guess the fire department had to demolish Greg's property more to get this guy out. He was at the hospital and there were questions he would live. Greg asked me to check it all out, although he had been in touch with a well-informed neighbor anyway.
I jogged over there. The porch is screwed up - some cement is crumbled and his landscaping stones/bricks are messed up. Some glass is still there and a bunch of oil-dry. The garage door is gone. Completely. They have put this ply-wood up (the city does this I guess) with hinges so barely—and I mean BARELY—a car may be able to fit through perfectly. I know he has a car in there. It is all locked up and a key is either being sent to him or is with the neighbor.
Crazy. Fox 2 was supposedly there. I recorded most of the early Fox 2 News for him. This is really why Greg contacted me. To record his house on TV.
Never did I expect that the poor sap who'd had his house driven into would be someone I know! And you know him too, in a way, since Greg has been a frequent contributor to this here podcast. He can be heard in episodes 2, 3, 6, and 7.
Incredible!
Here's what our NBC affiliate, WDIV, has to say:
A car crashed into a house in a Dearborn neighborhood on Thursday morning.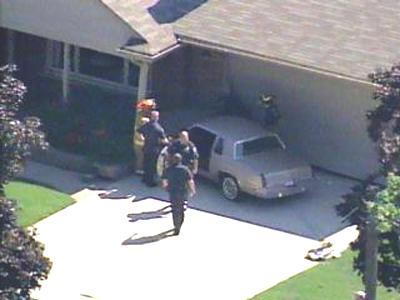 The motorist crashed his car into the front of a home on North Vernon Street just after 10 a.m., according to police.
It is believed the driver suffered a medical condition while backing out of his driveway across the street, Local 4 learned.
The driver was seriously injured in the crash, according to Dearborn police.
No other injuries were reported.
And here's ABC affiliate WXYZ's coverage:
An elderly man was hospitalized in serious condition, Thursday, after plowing his car into a neighbor's Dearborn home.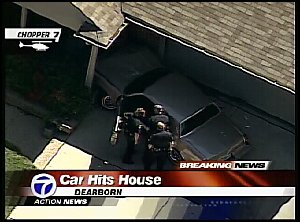 According to police, the 89-year-old man was backing into his own garage when he hit the wall. He then put the car into drive and possibly panicked, hitting the gas and driving across the street and into his neighbor's porch.
The man, who was alone in the car, was taken to Henry Ford Hospital. There was no one home at the neighbor's house at the time of the accident.
Neighbor Darlene Fisceri said a year and a half ago the man accidentally backed over his wife as she was taking something out of the trunk and broke both her legs.
Police said the man does have a valid driver's license.
What's also amazing is that the car came from across the street. The video footage makes it look like the car came from next door, from the angle of the crash; but the car reportedly came up the driveway and then swerved at the last second. You can barely see skidmarks on the driveway where the old man must have avoided hitting the garage. The neighbor quoted in the WXYZ story added that after impact the driver was found on the floor of the car, with his legs under the steering wheel and his head under the glove compartment. It's unfortunate he may have sustained serious injuries in the accident, and we look forward to hearing of his improved recovery. We're also looking forward to hearing Greg's side of the story.
Posted by

.(JavaScript must be enabled to view this email address)

on 07/07 at 11:15 AM
Blog Posts • Images • (1) Comments • Permalink