Latest from WAOTNC
Saturday, April 26 2008
Episode 67: The Heartbreaker Kid
Show Notes:
Recorded Wednesday, April 23 2008 (9:30 PM - 11:00 PM) at Joe's Prime Time Pub, Brownstown MI
"We're still here too! With the start of our new season and Jimmy's concert tour
coinciding, we bant— I mean, we discuss the new setlist. (Panel includes Greg, Scott, Schmoe, Mickey, and, once again in person, Mike. Cameo appearance by DJ.)"
00:12 - quite the long mid-season break, eh? Take THAT Battlestar Galactica!
00:30 - and in sports, the Tigers trounced the Texas Rangers 19 to 6 and the Pistons beat the Philadelphia 76ers 105 to 88.
00:36 - the deck had been recently stained and the smell of it was filling up the back room
01:07 - Landshark Lager
02:08 - the full quote, "It's pronounced 'Canada'; and, no, I haven't", comes from a Labatt Blue commercial (YouTube link)
03:06 - in the previous episode, Schmoe went on a rant about the lack of any irony in the Alanis Morissette song "Ironic". It was cut for time.
03:29 - Kirsten's phone call, as mentioned in Buffett News
04:13 - St Louis Today article, via Buffett News
05:05 - first mentioned in Episode 63
06:31 - score by John Williams, of course
07:44 - "Skip to the end": a Simon Pegg quote from Spaced, available at last in the US on July 22 2008
and highly recommended
11:07 - Commonwealth Displays
11:14 - according to Wikipedia, Radio Margaritaville started streaming in 1998 before being picked up on Sirius in 2005
12:35 - admittedly a not so subtle riff on the Monty Python "Knights of Ni" scene
13:27 - we learned later that Scott's playout music is the Rolling Stones' "She's a Rainbow". And my song is arguably Eric Clapton's "Bell Bottom Blues" (though technically I only stepped out to go to the lavatory; I did not actually leave the bar).
No playout music for Greg, Schmoe, or Mike though, unfortunately. The jukebox had stopped playing by then.
14:06 - my 1989 setlist page
15:57 - learn more about The Goners at John Hiatt.com
21:05 - as mentioned in Episode 64
26:16 - my 1992 setlist page
26:25 - despite Mike contributing in person, we still get goddamned GSM noise! Scott is innocent since he had actually left by this point. I can't say for sure, but i'm tempted to say Greg is to blame since I seem to recall him fiddling with his phone at this time.
36:30 - as discussed in Episode 64
Agree with us? Disagree? Let us know at .(JavaScript must be enabled to view this email address).
Posted by

.(JavaScript must be enabled to view this email address)

on 04/26 at 02:07 PM
Show Notes • (0) Comments • Permalink
Sunday, April 20 2008
Episode 66: When the Song Hits Home
Show Notes:
Recorded Wednesday, April 16 2008 (9:00 PM - 11:00 PM) at Zodiac Racquet Club, Southgate MI
"Another season winds to a close as Greg, Mickey, Scott, Schmoe, and Mike review the Glendale AZ mini concert. And we bring back the fourcast, as Schmoe quizzes us on our favorite Jimmy Buffett performances. Share yours at podcast_at_northcoastcast.com. (Special appearance by Jennifer.)"
What? Another show? Yes — partly because Mike is still in town and partly because concert season is starting to heat up, we're getting back into our weekly shows routine.
Re: title. You'll have to pardon the slight paraphrasing of the song lyric. It sounds better, for our purposes here.
01:26 - Roy Orbison's Black & White Night on Blu-Ray

01:26 - in Episode 65
01:55 - recorded April 11 at the Gothic in Englewood CO, available from the Live Music Archive at Archive.org
04:23 - compare for yourself: Pita Jungle vs Jungle Java
04:54 - which of course means next week it will be Scott's favorite concert ever
12:32 - the 41st Country Music Awards, hosted by Billy Ray and Miley Cyrus, were broadcast two nights prior (Monday, April 14)
16:23 - as captured in Episode 20
16:39 - previously mentioned in Episode 15
17:01 - this was in 1992, but Jimmy also did three shows around the Fourth in 1993
17:57 - also discussed in Episode 63
19:07 - Mike and Schmoe are referencing the Roger Clyne lyric "The kids are lighting firecrackers, boom boom boom" from "Counterclockwise"
19:48 - this was possibly my first Jimmy Buffett concert too. I was too drunk to remember any of it, but I do have this cool tour button as a souvenir…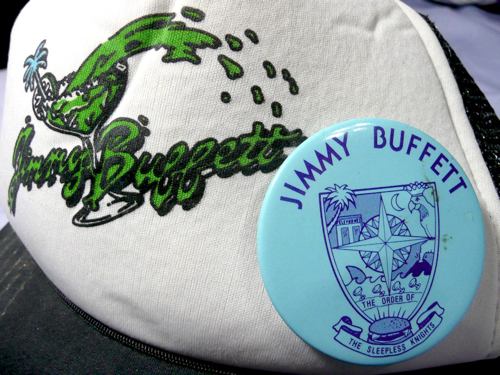 Check out that snazzy concert hat too!
20:44 - available on my 1993 setlist page. The story behind this: I talked my brother into bringing his wife and younger daughter to this show. They were up in the lawn, and during the show a woman was coaxed into taking her top off for the cameras. I was mortified, thinking such debauchery would scandalize my young niece. I hoped that they might not have seen it ... only to find out afterward it had happened only a few feet away from them! Jimmy made mention of the incident in his song introduction.
22:49 - no, I did not get mess up the title. I simply did not pause enough between "Night" and "live"
24:47 - available on my 1995 setlist page. I'm not sure, but it might have been Tropic Depression Six which was spawned by Hurricane Erin. The story behind this: I had clumsily given myself a head injury (hitting myself in the forehead with a tire iron while changing a flat, if you must know) and it required four stitches. The doctor instructed me to make sure to keep the bandage dry—and here I was, the next day, standing in an all-day rainstorm!
27:45 - Amazon's link for the Music for Montserrat DVD
. (The audio clip is no longer hosted on my site, as I deleted it once the DVD went on sale.)
30:37 - available on my 1989 setlist page
30:56 - available on my 1996 setlist page
31:06 - available on my 1987 setlist page
31:17 - one which is available on my 1997 setlist page
31:27 - one which is available on my 1992 setlist page
32:05 - as you can probably guess, the pretense of calling Scott back was because our big finish was recorded prior to the podcast, when Scott was still present
33:27 - Lake Michigan car ferry
Note: I keep forgetting my setlists site is so old most of the content is still in crappy-sounding (and, in most cases, no longer playable) RealAudio. I had intended on linking my fourcast list to the respective audio clips on my old LADI34T site, but I'm reminded it will be necessary to redo the clips to make them more listenable. Something new for my To-Do list. Stay tuned.
P.S.: the "banter" count for tonight's show is 8
Posted by

.(JavaScript must be enabled to view this email address)

on 04/20 at 03:45 AM
Show Notes • Images • (3) Comments • Permalink
Tuesday, April 15 2008
Episode 65: Pirates, Banditos, and Beach Bums
Show Notes:
Recorded Wednesday, April 9 2008 (9:30 PM - 11:30 PM) at Zodiac Racquet Club, Southgate MI
"The boys are back from their road trip weekend (seeing Roger Clyne & The Peacemakers in Ferndale and Chicago) and they're full of stories. Let the mancrushing begin. (Cameo by Jennifer.)"
We saw Roger Clyne in Ferndale on Thursday, April 3 and in Chicago on Friday, April 4. Many of our adventures are illustrated by pictures in our photo gallery: the Ferndale album and the Chicago album.
00:00 - audio from our Roger Clyne interview, in Episode 37
01:31 - Schmoe's and my night of stargazing is part of the bonus audio to our "Caseville 2007" entry, and has been ridiculed ever since
02:29 - Joe's Bar, Chicago
04:45 - Emmett Kelly
06:06 - "Buffett Performs in Glendale AZ", from Buffett News | "Buffett Plays Glendale Margaritaville", from Buffett World
06:25 - "Buffett Performs at the St Barts Bucket Regattas", from Buffett News
06:45 - "Buffett Number 1 On Top Events Lists", from Buffett World
07:18 - "Early Review of Swine Not?", from Buffett News
07:44 - audio from "Onion Radio News", March 30
26:26 - funny because the original couplet is "Got off in the wrong direction / Found some hookers and lost our erections"
27:00 - the picture under discussion. (I cropped off all the empty space, but you can see Greg's bunny pose.)
29:11 - or this group shot from Chicago
32:58 - Georgia, the band
39:11 - I believe Scott getting a Shurman bandmember's attention by shouting "Hey, Shurman!" was first mention in Episode 37 (or maybe its bonus episode)
40:41 - as with the previous clips, audio from Ferndale is taken from the upload at Live Music Archive at Archive.org. I left in a lot of this song to get to Greg's out-of-tune singing on "Echo, echo, echo."
48:07 - yes, it's an inside joke, but the butt of it is not part of the podcast
49:45 - as seen in "Dunder Mifflin Infinity", the second episode of The Office season four
51:14 - it may seem wimpy to use ear plugs, but those guys play loud!
54:19 - the RAM, Chicago
57:50 - pretty sure this story is bullshit, but I agree it should catch on
65:24 - I don't remember if this has been discussed before. Mike is referring to when Scott confused the band Scandal and the band Journey. But in Scott's defense, it was because Scandal covered Journey's song "Only the Young".
73:08 - yes, that's still me on the right; but listen for Mike on the left. (Chicago audio is from my own Zoom H2.)

> Download Episode 65
Posted by

.(JavaScript must be enabled to view this email address)

on 04/15 at 01:37 AM
Show Notes • RCPM • (7) Comments • Permalink
Page 1 of 1 pages