Latest from WAOTNC
Friday, May 30 2008
Episode 70: One Run, Two Sets
Show Notes:
Recorded Wednesday, May 28 2008 (10:30 PM - 11:30 PM) at Casa de Schmoe, Dearborn MI
"The title refers to both Crazy Rummy and the fact Greg and Mickey finally offer up the
first of our ultimate setlists. (Special guests: Nathan and Rachel the Singing Waitress.)"

Joe's Prime Time was packed when we assembled. We hadn't realized so many people would show up to watch Game 3 of the Stanley Cup Finals there and we were forced to start recording much later than usual while we waited for the place to clear out.

Why Our 5/28 Podcast Started Late (HD) from ShortFatGuy on Vimeo.
03:44 - Margaritaville Cargo.com site, the Margaritaville Retail site, and the Soles of the Tropics footwear site
05:10 - the June 1 New York Times Bestsellers List and Publishers Weekly's list
05:59 - Amazon's Swine Not? listing

06:48 - here's an image of Greg's Excel spreadsheet setlist (click on it to download the full spreadsheet, in PDF format):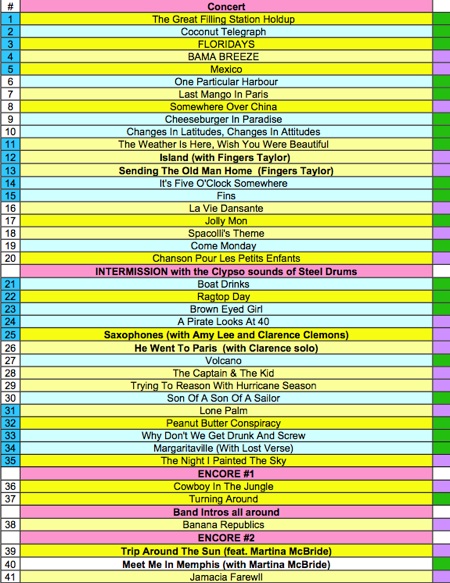 Thumbnail of Greg's XLS file
07:57 - that was a waitress noticing how bored Nathan was
11:00 - Timothy B Schmit.com
11:21 - recently discussed in Episode 51
11:31 - as discussed in Episode 69B, Mike has developed a fondness for the sounds of the Carnival Steel Drum Collection Jimmy Buffett tribute CDs. Here are Amazon's links to Volume 8
and Volume 11

11:50 - Clarence Clemons.com
13:56 - Martina McBride.com
14:08 - Shari Belafonte's Wikipedia page
16:49 - and here's my list, copy-and-pasted right out of Notepad. (Why Notepad? I wrote it at work.)
Mickey's Ultimate Setlist

First Set
01. Gravity Storm [alt: Carnival World]
02. Weather is Here wish You Were Beautiful
03. Boat Drinks
04. Coastal Confessions
05. The Pascagoula Run
06. Lone Palm
07. Quietly Making Noise [alt: It's Midnight and I'm Not Famous Yet]
08. He Went to Paris
09. Only Time will Tell [alt: Nothing But a Breeze]
10. Island
11. Son of a Son of a Sailor
12. Cheeseburger in Paradise
13. Volcano
14. Margaritaville

Club Trini remains on stage for intermission

Second Set
15. Nautical Wheelers (solo acoustic)
16. Brahma Fear (solo acoustic)
17. The Wino and I Know (solo acoustic)
18. West Nashville Grand Ballroom Gown (acoustic with Mr Utley on piano)\
19. Livingston Saturday Night
20. Far Side of the world [alt: Don't Chu Know / Lage Nom Ai]
21. Dreamsicle
22. Tampico Trauma
23. Window on the World [alt: Piece of Work]
24. Come Monday
25. Gypsies in the Palace
26. A Pirate Looks at 40
27. Fins
28. One Particular Harbour

First Encore
29. Last Man Standing
30. I Have Found Me a Home
31. Someday I Will

Second Encore
33. Jolly Mon Sing
32. Tin Cup Chalice

Third Encore
33. African Friend
22:45 - actually I think Greg was ripping on Mike, who, following a concert many years ago, had been disappointed Jimmy had not performed "Changes" when Jimmy actually had. And I didn't even tell my own story well. What I meant was that immediately upon finishing "One Particular Harbour" I guessed that Jimmy's very next introduction was for "One Particular Harbour". I've learned to hold my liquor better since then.
23:47 - ** SPOILER WARNING ** here's some behind the scenes trivia for you. Through some clever editing, the waitress I order my Landshark from at 22:56 and the waitress who forgets my Landshark are actually two different people.

> Download Episode 70
Posted by

.(JavaScript must be enabled to view this email address)

on 05/30 at 10:21 AM
Show Notes • Images • Videos • (0) Comments • Permalink
Page 1 of 1 pages