Latest from WAOTNC
Sunday, June 28 2009
Episode 104: Wednesdays, Sundays, Hearing Aids
Show Notes:
Recorded Wednesday, June 24 2009 (9:30 PM - 11:30 PM) at Zodiac Racquet Club, Southgate MI
"The deaf are leading the deaf as the guys review Buffett Live: Tuesdays, Thursdays, Saturdays. (Cameos by Nathan, Jennifer, and Lee.)"
00:20 - the prolonged giggling is because I came very close to doing a spit-take right here
00:27 - Key West Coffee & Café's not exactly up-to-date website and a photo from our eventual visit on July 1.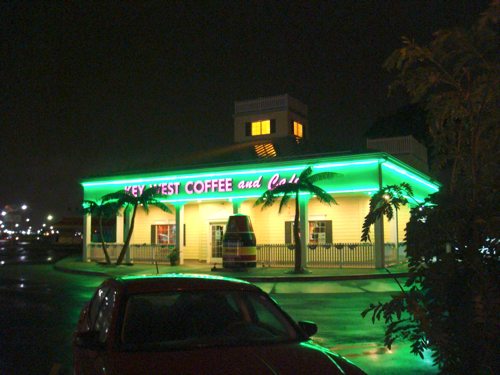 02:43 - apparently this is the theme music for Facebook's Farm Club from Scott's MacBook (and, 02:58: that's a tiny snippet of "Rock Me Amadeus", requested by Jennifer, avoided by me).
03:53 - Tiki Bar TV
04:21 - Mike is referring to something Greg said to Jennifer before we recorded. That something is repeated by Schmoe at 04:25
05:23 - Jimmy sings the Dolphins "Fins" song on YouTube
05:34 - the Miami New Times contest
05:46 - Dol-Family's "Dol-Fans 4 Life" MP3
06:07 - Margaritaville Montana?, via Buffett News
07:08 - Estefans Expected to be Minority Owners, via Buffett News
07:41 - Sirius XM iPhone app: web page link, iTunes App Store link
09:46 - iEncore iTunes App Store link. For more Buffett-related iPhone apps, check out our list under Episode 94.
10:02 - Buffett News write-up on Bonaroo
10:47 - Buffett News write-up on Will Kimbrough post
11:07 - Buffett News's write-up on Tommy Womack tweet
11:25 - Christmas in the Caribbean Jimmy Buffett Tribute Cruise
17:27 - Buffett World's Tuesdays, Thursdays, Saturdays page
18:02 - Greg is complaining about the poor Photoshop cloning on the CD's back cover
19:24 - Scott is possibly confusing this 1999 "Beach House" tour with 1994's "Fruitcakes on Tour", seeing as "Fruitcakes" was not the show opener in 1999
38:38 - this was printed on the LP's inner sleeve
45:35 - and that was entirely improv'd, too!

> Download Episode 104
Posted by

.(JavaScript must be enabled to view this email address)

on 06/28 at 07:06 PM
Show Notes • Images • (2) Comments • Permalink
Page 1 of 1 pages