Latest from WAOTNC
Saturday, September 5 2009
Episode 109: I Love the Then
Show Notes:
Recorded Wednesday, August 26 2009 (9:30 PM - 11:30 PM) at Joe's Prime Time, Brownstown MI
"Highlights from the end of the fourth leg of the tour plus a look back at the 1987 Pine Knob concert, as season seven comes to a close. (Special guests: Scott, Chuck, Jenna, and Danielle.)"
Warning: it's a long one.
00:11 - U2's Joshua Tree concert at the Silverdome was Thursday, April 30 1987—their first stadium show
00:19 - you can barely hear him say it, but the concert Chuck is talking about is Sammy Hagar at Cobo Hall. He seems to have a Sammy Hagar fixation this show.
00:22 - I never said, but for the record, my first concert was the Detroit Pops playing music from science fiction movies at Meadowbrook; and my first rock concert was Loverboy at Pine Knob in 1981
01:17 - listen to the 1987 show we'll be talking about
02:23 - I still have my ticket stub, but what we're reading off is the LADI34T 1987 setlist page
05:46 - the video of which he speaks. I'll withhold comment about him likening Parrot Head tailgating to Sammy Hagar's crowd
07:27 - "Beautiful Swimmer", as mentioned on Buffett News
07:59 - GAC TV.com's George Strait interview
08:53 - New York Magazine's Blue Parrot write-up
09:20 - that came out wrong. What she said was that with her being from Texas, she's very particular about guacamole.
09:32 - Press of Atlantic City.com's write-up
10:50 - "[…] a compilation of live renditions of 13 tracks from his 1985 release, Songs You Know By Heart."
11:38 - AV Club's article on B-52s
12:06 - not to be confused with Something Awful.com
13:00 - the July 17 post at Scott Kenemore's Zombie Blog
14:26 - Stub Hub's Top 20 Rockin' Cities
17:03 - Cleveland was not in the top 20
17:20 - I know: bugs have six legs, arachnids have eight. It was an attempt at a joke.
24:46 - the inevitable link to our waterlogged Episode 17
33:28 - Greg forwarded his sister's photos to us on Thursday, July 16 2009: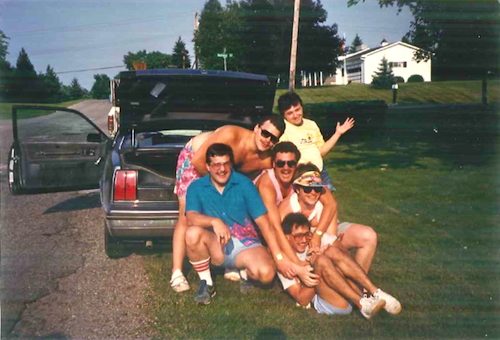 Hud, Schmoe, Mickey, and Larry are in there somewhere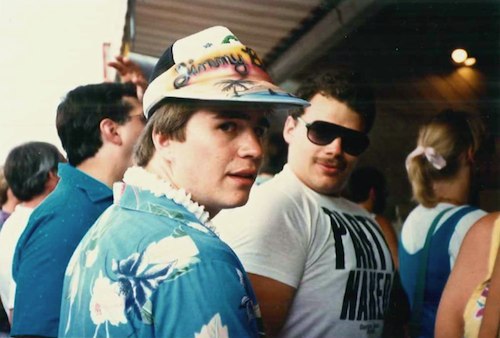 Schmoe and Hud, at the gate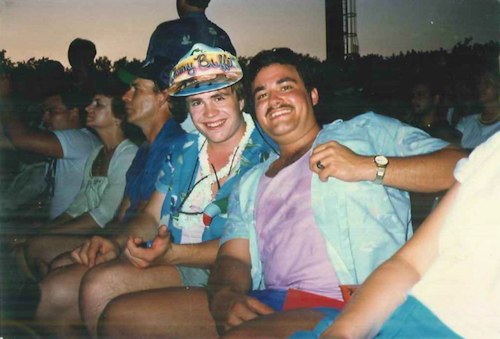 Schmoe & Greg in the pavilion, with Mr & Mrs Hud in the background
43:34 - I took a stab at it, but the year was 1912.
44:30 - and here's Schmoe trying on his vintage 1987 concertwear. I had my Cyber-shot for photos and Chuck took video with his cellphone: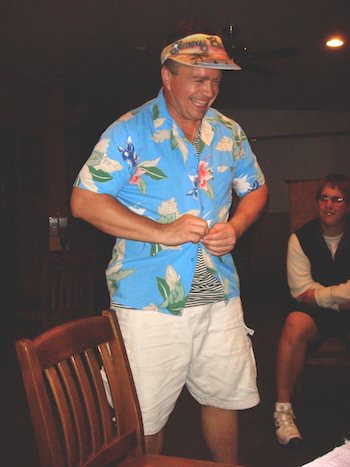 Schmoe sucks in his gut
45:41 - "Look confused"...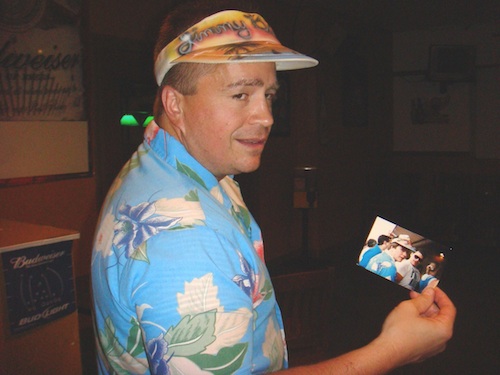 "Look confused"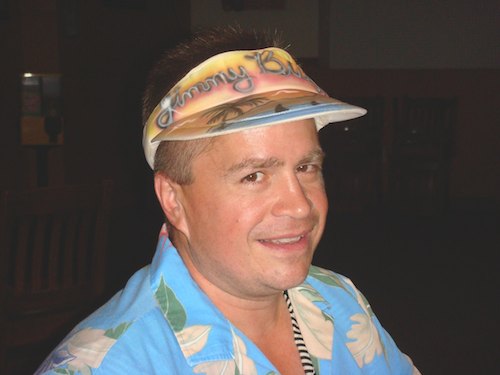 Our hero
48:41 - 2003's Meet Me in Magaritaville I assume
50:31 - the Raven Gallery in Southfield, now the site of Sweet Lorraine's
51:48 - Catherine Deneuve's IMDb page
53:08 - "La Kenta" is off the 1987 Club Trini CD Jubilee. (Not, as I guessed at later, 1988's Heat.)
58:49 - we figure it out at 63:12
61:01 - the ">1987 setlist page has file sizes noted, for download purposes. As far as times go: it's 5:14 for the intro and 3:18 for the song
61:22 - once again, my concert notes can be read at the bottom of the 1987 setlist page
63:12 - what we should've been talking about at 58:49
67:23 - at Jones Beach, Wantaugh NY

> Download Episode 109
Posted by

.(JavaScript must be enabled to view this email address)

on 09/05 at 08:33 PM
Show Notes • Images • Videos • (0) Comments • Permalink
Page 1 of 1 pages