Latest from WAOTNC
Monday, November 23 2009
Episode 114: Ukes on Thursday
Show Notes:
Recorded Wednesday, November 18 2009 (11:00 PM - 12:30AM) at Zodiac Racquet Club, Southgate MI
"The latest news, a new concert round-up for the first of the November shows, and a review of Jake Shimabukuro's recent concert in Ann Arbor. (Cameo appearances by Joe Maj, Lee, and Jennifer.)"
(Not to be confused with Episode 20.)
00:09 - the blog to which Schmoe and Mike refer is our sister site, Tales from the North Coast
00:42 - the clips from the Bruce Springsteen concert (Friday, November 13) come from here and here
01:44 - the U2 clip is from my own recording, made Wednesday, May 30 2001
04:11 - a How I Met Your Mother reference
04:53 - in Episode 59
05:44 - link to Goodbye Hello at Little Flock Music
06:55 - Baz's Bar: Buffett World's write-up | Buffett News's write-up (with links to the videos)
07:01 - Le Select: Buffett World's write-up | Buffett News's write-up
07:10 - Buffett News's link to the video
07:39 - Mac McAnally website | CMA Awards website
08:01 - curiously the Radio Margaritaville page at Sirius.com showed five concerts for November while the front page at Radio Margaritaville.com showed only four. (The latter was correct.)
Here's the Link for The Zac Brown Band; and here's Buffett News's write-up.
08:38 - Land Shark Stadium performance: Buffett World's write-up
09:08 - I got the song title right in Episode 112, but Buffett World tricked me into saying it wrong now—grrr!
09:30 - once again, the link to Boo-fay Hotel
on Amazon. And the link to the poll on our WAOTNC fan page at Facebook
10:49 - I don't know when Mike first heard Jimmy talk about Buffet Hotel, but the clip from Late Night is in Episode 107
11:14 - Margaritaville Rum: Buffett World's write-up | Buffett News's write-up (and, yes, my saying "boo-fay" here was pure simple-minded gaffe)
12:28 - evidently there was some fine-turning to Radio Margaritaville's Thanksgiving schedule. The Paris show was scheduled for 7:15 at "press time" but since got moved to 8:40 PM. If you missed the concert due to this mix-up, you can catch it Saturday (11/28) at 6 PM and Sunday (11/29) at 10 PM (EST).
17:32 - presumably the "top secret gig" is Jake's performance with Bette Midler, before Queen Elizabeth, for the Royal Variety Performance 2009, on Monday, December 7, in Blackpool.
20:26 - after all the Springsteen talk I couldn't help underscoring how Jimmy got the day wrong throughout the concert. It was a Tuesday.
22:28 - a lyric update for "A Lot to Drink About"
23:08 - Jimmy might have mentioned this before, but it seemed a "Get it On Paper" reference out of nowhere was worth keeping. I also liked Jimmy's off-hand "argh" during "Pirate".
26:30 - we only decided that morning to go, not that we decided to go in the morning
27:09 - Grizzly Peak Brewing Company, in Ann Arbor
27:59 - The Ark, in Ann Arbor
38:16 - I couldn't find it while searching "Jake Shimabukuro", but I found it while searching for "Annon". Here's the link to "Annon" on iTunes. And the link to "Annon" in the Amazon MP3 Downloads store.
38:16 - the setlist for Jake's November 12 concert in Ann Arbor:
Annon
Blue Roses Falling
Me & Shirley T
Let's Dance
While My Guitar Gently Weeps
Sakura Sakura
Piano-Forté
Five Dollars Unleaded
In My Life
Norwegian Wood
Orange World
Encores:
Bohemian Rhapsody
Ave Maria (Schubert)
40:53 - Here's a great video of Jake playing "Bohemian Rhapsody" (third video down), on The Adventure Life.org.
43:08 - buy Jake Shimabukuro's live album and other of his CDs at his online store
44:05 - the interference is back, in the right channel, and it was caused by Jennifer's phone
44:59 - Shirley Temple: on Wikipedia and at her official site. But I mean, come on, there are enough cable channels showing old movies that I can't believe there's still a need to explain who Shirley Temple or Henry Fonda or Jimmy Stewart are. ...Kids these days.
51:40 - Schmoe's Cantina.com; no merch there, but the domain is ours

> Download Episode 114
Posted by

.(JavaScript must be enabled to view this email address)

on 11/23 at 07:09 PM
Show Notes • (1) Comments • Permalink
Friday, November 13 2009
Jake in Concert
Just back from Jake Shimabukuro's amazing performance at The Ark in Ann Arbor. Technology hates me and I lost most of my photos, but here are a few that survived.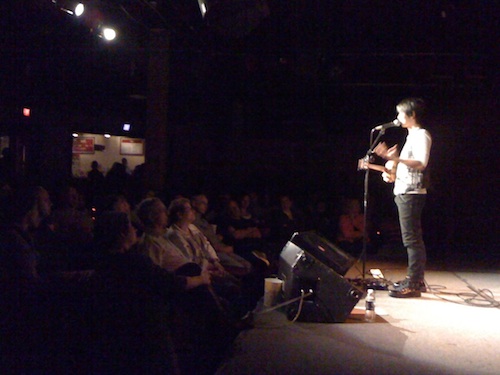 Jake in concert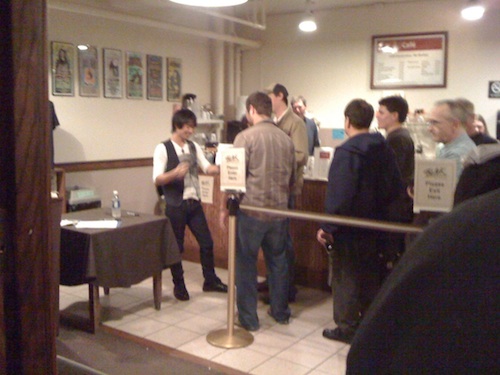 The receiving line: merch on the left, autographs on the right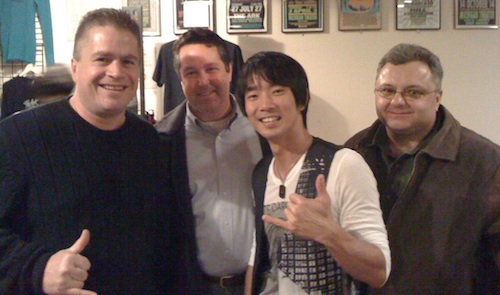 Jake and the Fat Man
Posted by

.(JavaScript must be enabled to view this email address)

on 11/13 at 12:37 AM
Blog Posts • Images • (1) Comments • Permalink
Monday, November 9 2009
Episode 113B: Pwned By a River
Show Notes:
Recorded Wednesday, November 4 2009 (10:00 PM - 11:30 PM) at Zodiac Racquet Club, Southgate MI
"The boys analyze Mac McAnally's new album (by way of his 9/28 Radio Margaritaville interview), Mickey has news and another concert roundup, Mike complains about his shoes, and Schmoe dredges up some old traumatic memories."
I had second thoughts about using "pwned" in the title, since that term is so worn out and over-used…only to find out Schmoe and Mike had never seen it before
04:00 - uh-oh! A cat story? Just eight hundred ninety subscribers to go…
05:42 - Game 6 of the World Series was on TV, and the Yankees clinched the championship over the Phillies 7 to 3
06:39 - hey! where's the Double-Entendre Alarm?
10:54 - MTV's story on the Live Nation / Justin Timberlake tequila deal (and, for the hell of it, the official link to 901 tequila)
12:07 - WMBF's news story on the possibility of Jimmy coming to Myrtle Beach, with the original video clip (which was re-edited for the podcast)
13:25 - Meeting of the Minds
13:52 - Jackson Quigley's new blog | buy JimmyDOTcom used from Amazon
14:24 - Joystiq.com's story on the "Margaritaville" patent, and the Patent Office's listing itself
17:42 - our Twitter page
17:51 - Houston Chronicle's story on Kinky Friedman's Pet Files
18:24 - you can pretty much guess that, after making a point to correct Mr Utley, Jimmy will make the same mistake a few minutes later on stage…
21:25 - Jimmy read messages off a lot wandering beach balls that night. …And doesn't he sound a little cruel making fun of Mr Utley?
26:53 - Mac's new album [at Amazon]. And for good measure Mac's website.
26:59 - we never explicitly say but our review is based more on Mac's interview on Radio Margaritaville, where Steve Huntington played the entire album, than on the CD itself
27:57 - Willis Alan Ramsey's Wikipedia page. Schmoe's man-crush was first revealed in Episode 35
29:11 - "Jimmy from Florida" made his first appearance at the Cincinnati pre-show interview, an audio clip of which is in Episode 107
33:01 - yes, Jeff Hanna of Nitty Gritty Dirt Band
33:39 - "gospel piano", in fact. And the lyric I had in mind is "It seems to me, that the neediest people are the last ones to ask you for help". Or maybe it's "It seems to me, that the happiest people are the first ones to offer their help"
34:39 - Joe Maj mentioned this back in Episode 92 — and here's another ringtone, this time from Schmoe
35:31 - my apologies for all the chewing. I didn't think the mics would pick it up so well.
38:45 - "Do you know what the definition of a hero is? Someone who gets other people killed." Serenity, written and directed by Joss Whedon (2005). Buy it.
39:07 - the line is "The nature of a hero requires a leap of faith". I'm not sure where I got "the mark of a hero". Maybe from some commercial. But I still think the whole "Find out what you're made of / When it's your time to say 'You first'" motif really only works best in the first instance [emphasis mine].
44:52 - it seems how I described myself makes it seem I can't be satisfied too, but I guess what I mean is a comparison between someone who's always striving for something better, in expectation of the next upgrade, compared to someone who gets handed the best of everything and finds fault with it. But even that description seems too fine a point.
46:02 - I'm confusing it with Jimmy's new album
47:01 - then why not buy it on iTunes?
48:38 - Jennifer really did accidentally call our beers "Landscape" instead of "Landshark". Unfortunately this happened before we started recording.

> Download Episode 113B
Posted by

.(JavaScript must be enabled to view this email address)

on 11/09 at 11:09 PM
Show Notes • (2) Comments • Permalink
Page 1 of 1 pages