Latest from WAOTNC
Saturday, March 27 2010
Episode 124: See Empty Crosswords
Show Notes:
Recorded Wednesday, March 24 2010 (10:00 PM - 12:00 AM) at Zodiac Racquet Club, Southgate MI
"The boys discuss Buffett & the Reefers' recent appearance with Zac Brown Band on CMT Crossroads and then round the night off with a special, extended joke cavalcade. (Special guest: Jennifer. Cameos by Joe Maj & Jacob.)"
01:02 - tonight's recording was preceded by an FSGL rules meeting to recapitulate the annual transition from wallyball to golf. It was thought the meeting might impede on recording time, but we managed to get a podcast in before it got to late. Which is all to preface mentioning the Mike saying "parenthetically" was to tease Schmoe for using the term during the meeting.
01:25 - Buffett News on Margaritaville Nashville setbacks
02:24 - Buffett World on Niagara Falls Café job fair
03:20 - Watch Crossroads online at CMT.com
04:50 - Buffett News report, which we should've read more closely before our show
12:18 - Zac Brown Band's "Toes" video, on YouTube
16:11 - regarding the band lineup, Buffett News says: "They split it up into 2 sets, first the Zac Brown Band sang and then Buffett's set. During the Zac Brown set Nadirah, Tina, Robert, Ralph, and Utley were also on stage. Mac joined for the final 2 songs. During Jimmy's set Roger Guth, Will Kimbrough, and Uncle Jim joined the party." I guess we got fooled by the editing.
20:36 - first clip, from The Colbert Report on Thursday, March 11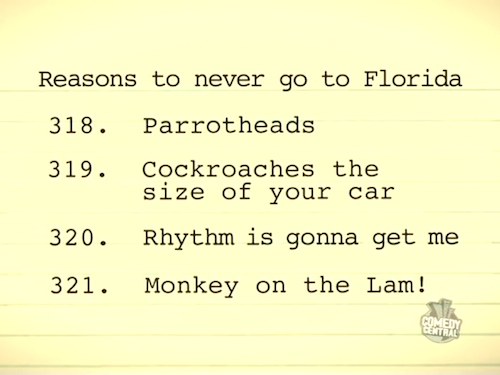 As seen on The Colbert Report

Coincidentally, @StephenTColbert repeated this same list on Twitter shortly after Episode 124 went online
21:10 - second clip from The Colbert Report on Wednesday, March 17. The author is Nell Irvin Painter and the book is The History of White People
.
29:02 - joke lifted from Marc Maron's WTF podcast, but I can't remember the episode number any more
P.S.: Hud did not stick around for the to the recording, but he still wanted to add the following observation: Jimmy is starting to look just like sportscaster and former coach Dick Vitale, who appeared in a commercial during the initial airing of CMT Crossroads.


> Download Episode 124
Posted by

.(JavaScript must be enabled to view this email address)

on 03/27 at 01:59 AM
Show Notes • Images • (0) Comments • Permalink
Friday, March 12 2010
Episode 123: Take 2
Show Notes:
Recorded Wednesday, March 10 2010 (11:00 PM - 12:00 AM) at Zodiac Racquet Club, Southgate MI
"Features the last two Summerzcool concert roundups and your latest Jimmy Buffett headlines, but a major pre-show gaffe makes this an unintended sequel to Episode 4. (Cameo appearance by Jennifer.)"
It was such an amateurish mistake you'd think I was blind drunk Wednesday night. We were sitting in a different configuration so I changed the microphone record pattern. Evidently my fingers thought I'd pressed enough buttons, since I set the recorder back down without hitting the Record button. I ended up missing a very lively and very funny panel. It was the kind of relaxed conversation we don't seem to have that often, as if we subconsciously knew the pressure was off and we weren't being recorded. Just like what happened with Episode 4.
After half an hour I guess I sensed something was amiss – maybe I didn't see the red Record light in the corner of my eye. I picked the recorder up and realized none of our talk had been captured. It wasn't because of some hardware failure; it was my own damned fault in taking things for granted and in being inattentive.
Despite how late it had become, we elected to press on, trying to remember what we'd already talked about so we could try again.
00:33 - one of the first topics Schmoe had brought up in our "rehearsal" was how Mike and he felt incomplete without their Buffett tickets. Whereas my $5 extra fee now gave me the peace of mind of having tickets in hand. They'd chosen to print them up themselves, but didn't want to do so till closer to the concert date. Plus, Schmoe added. "my printer is out of ink". This struck Mike and me as sounding somewhat dirty, making us joke how the double-entendre alarm must be sounding. Schmoe followed this up with another comment which sounded dirtier than the last – and then a third comment. The timing was perfect, but it didn't get recorded…and I can't remember what the other two comments were. (Incidentally, the double-entendre alarm probably should've sounded at 00:19, but that might have spoiled its appearance here.)
03:43 - once I mentioned Zach Galifianakis during the "rehearsal", we talked a good ten or fifteen minutes about his Saturday Night Live performance
06:37 - Zac Brown Band's CD The Foundation
at Amazon.com
07:46 - Will Kimbrough's album Wings on iTunes, as MP3 downloads at Amazon
, and as a CD at Amazon

08:29 - Tennessean.com's article on Will Kimbrough's album release party
09:05 - Market Watch's story on Orange21's Margaritaville eyewear
10:26 - Jimmy flies to Haiti: from Buffett News | from Buffett World
10:56 - Hollywood FL resort: from Buffett News | from Buffett World
12:40 - link to Episode 117 | link to Fisher Stevens on IMDb
14:07 - link to Episode 120 | the latest on the Alabama state song from The Gadsden Times
14:56 - here's a bonus news story: a nice article on Michael Utley from Examiner.com
17:27 - those listening at home missed out on Jennifer belly dancing to the sound of her ringtone
18:29 - I also forgot to mention how "Five:o'Clock Somewhere" was moved to later in the show, "Boat Drinks" got added to both shows, and "Nobody from Nowhere" and "Brown Eyed Girl" were made into a rocking encore
26:06 - oh God, that woman is back!
30:56 - Gamble Rogers on Wikipedia
32:44 - for the first time in concert roundup history, the only pre-show interview without a single edit
42:39 - during a break, I played Zac Brown's "Margaritaville" video clip for Mike. Since we were quite familiar with the song we did not play it to the end. We obviously stopped to soon for Jennifer's liking though.

> Download Episode 123
Posted by

.(JavaScript must be enabled to view this email address)

on 03/12 at 10:53 PM
Show Notes • (0) Comments • Permalink
Page 1 of 1 pages