Latest from WAOTNC
Sunday, September 26 2010
Episode 136: Mustard & Ketchup
Show Notes:
Recorded Wednesday, September 22 2010 (9:30 PM - 11:30 PM) at Zodiac Racquet Club, Southgate MI
"It's our last podcast of the Summer. And it might sound like a rerun since we talk about album covers again, but it's not. Really. And anyway there are two concert roundups too (Camden and Pittsburgh). (Guest appearance by Joe Maj. Cameos by Jennifer.)"
02:23 - the You Get What You Give Deluxe Editions from iTunes, Amazon
, Target, Walmart, and the official site
04:17 - "Jimmy Buffett visits campus", from The Student Printz
04:42 - "Trump Marina Hotel deal in Atlantic City off again", from Buffet News | "Margaritaville Casino in Atlantic City now 'Out of the Picture'", from Buffett World
06:01 - Robert Greenidge's A Coral Reefer Christmas, to be released on October 26 and available for pre-order
06:10 - see 7:18
07:18 - concert montage from Tuesday, August 10; the second show of the fourth leg of the tour, and the second of two shows from Camden NJ
19:46 - hear that, Mike? I bet Jimmy played that final chord just for you.
21:22 - I meant to repeat how I'm always giving License to Chill short shrift by always forgetting about it –- and, ironically, it slipped my mind!
23:20 - yes, I admit it, despite Schmoe's admonition to ignore songs performed live, we still based our selections on concert setlists
24:52 - reviewed in Episode 104
27:15 - already covered in Episode 10
28:23 - Margaritaville Orlando has a cool t-shirt based on the Changes cover: Buy it here | View it here
31:51 - all this was previously discussed in Episode 10, including my photo of the original Feeding Frenzy packaging
33:33 - it appears the Songs You Know By Heart MasterDisc is out of print, so here's the album cover just to prove my point (and to show all you youngsters what you've been missing):
Hey, MCA! THIS should be the cover!
38:45 - concert montage from Thursday, August 12, at Pittsburgh, the second to last show of the fourth leg of the 2010 tour
45:13 - transmission problems caused us to miss a song, to lose the beginning of "Volcano", and for the rest of the concert to be broadcast in mono
50:21 - the "hillbilly shit" comment actually followed "Gypsies in the Palace"

> Download Episode 136
Posted by

.(JavaScript must be enabled to view this email address)

on 09/26 at 10:55 PM
Show Notes • Images • (0) Comments • Permalink
Monday, September 6 2010
Episode 135B: The Other Half
Show Notes:
Recorded Wednesday, September 1 2010 (9:30 PM - 11:30 PM) at Zodiac Racquet Club, Southgate MI
"Listener Ed's 2010 Alpine Valley review plus a concert roundup from Bristow VA. (Cameo by Jennifer.)"
Feel free to read along with us:

Listener Ed's 2010 Alpine Valley Review
And clips from the concert are part of our concert roundup in Episode 132B.
01:20 - for more on "shadows tall", consult Episode 98
02:20 - Listener Ed's blog
03:33 - here's Listener Ed's proof: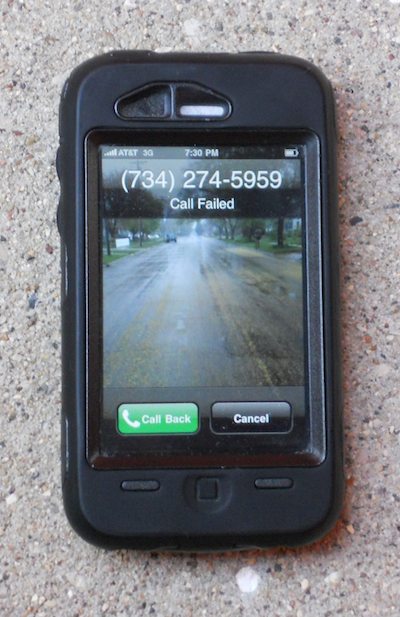 "Just wanted to show that the cell network could not process calls even though I had 5 bars."
04:12 - I had the same thing happen at our Pine Knob show. As the intermission started, I tried sending one of my photos to TwitPic. A song and a half into the second set I finally gave up.
09:14 - our own concert roundup is part of Episode 132B as well
19:55 - here's the photo I refer to
22:40 - "stopped mentioning". I meant to say "stopped mentioning". The exact opposite. What a dumbass.
22:50 - this was brought up in Episode 131. The mistake has been corrected, but here's our screen-grab of it.
23:20 - "Margaritaville (Live) - Single" by Bret Michaels & Jimmy Buffett [iTunes link]
35:50 - the change in audio is because I moved the mics for the joke. The "We're back" was in case the joke immediately followed the concert roundup.

> Download Episode 135B
Posted by

.(JavaScript must be enabled to view this email address)

on 09/06 at 01:37 AM
Show Notes • Concert Reports • Images • (0) Comments • Permalink
Thursday, September 2 2010
Episode 135A: The First Half
Show Notes:
Recorded Wednesday, September 1 2010 (9:30 PM - 11:30 PM) at Zodiac Racquet Club, Southgate MI
"The boys discuss how they spent their Summer vacations, with stories about Caseville, Parrothead Night with the Detroit Tigers, finding Margaritaville Rum, and uncovering a Landshark bottling mystery. Plus Scott reviews Tom Corcoran's Key West book. (Cameo by Jennifer.)"
00:36 - looks like Scott last joined us back in Episode 129! Sheesh!
01:26 - our tenth season, right? But Season 9 feels like a writers' strike season, since we did so few episodes. Or maybe an AMC season.
01:31 - watch the documentary and get the lowdown on that "shadows tall" line in the show notes for Episode 98
03:32 - apparently Schmoe thinks Caseville is like Brigadoon
03:47 - Cheeseburger in Caseville (and another link to our 2006 videos)
03:56 - No. In 2006 and 2007.
06:15 - a callback to Mike and Schmoe's Mexican vacation, which was discussed in Episode 69A
09:12 - which would be August 14
10:07 - the Freep's Cheeseburger in Caseville article, from August 5
10:44 - the article as sent to Mickey by Mike, in PDF format
11:29 - yes, all this time Scott has been absorbed in reading the Tom Corcoran book Mike brought for show-and-tell
12:07 - Jimmy Buffett: The Key West Years
(2006) by Tom Corcoran
12:50 - Air Dance Iguana
(2005) by Tom Corcoran
15:39 - Life Lessons of a Legend
by Brad Manard | Steve Goodman: Facing the Music
by Clay Eals | Jimmy Buffett and Philosophy: The Porpoise Driven Life
by Erin McKenna & Scott L Pratt
25:41 - here's Schmoe's photo, sent way back on the morning of July 31. We saved it for the podcast rather than posting it on Twitter; little did we know how long it would take till we got around to discussing it.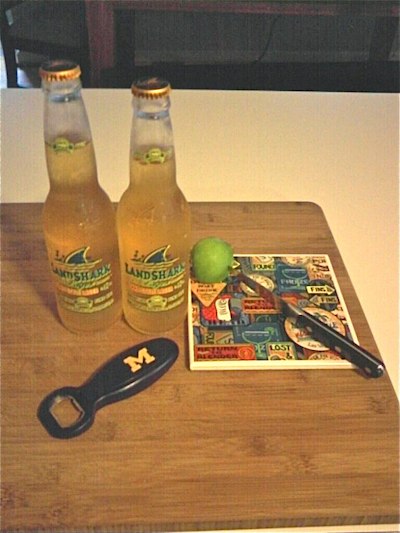 Schmoe's Momentous Discovery
(the St Louis bottle is on the right)
And here's what Schmoe wrote to accompany the photo. We assume he was drunk.
Where is YOUR Landshark From?

---

To my fellow Shark lovers,
When Mick enlightened me this week that I had Landshark at Nate's party that was from St Louis, I realized I look numerously at the 'Jacksonville' on the label and never saw another city. I checked it out and, YES, I had Sharks from both cities in the Cantina Icebox. Not only that, but the St Louis bottle is a shorter longneck. The St Louis brew was a full case I purchased. The Jacksonville lager was personally delivered inside a 12 pack per usual. (Still, Zodiac considers our beer an 'import', but I digress…)
I conducted a taste test last night. They both rated the same: wet, cold, smooth, lime-friendly, relaxing, and an excellent finish with a high chill factor.
I provided a photo for reference.
End of report…for now…....
29:01 - Caribbean Blue
30:51 - here's some of Mike's video footage from Comerica Park (uploaded September 6 but then revised and re-uploaded on the 7th)

All the mentions of Brian are explained in Episode 128.
31:35 - the Tigers lost to the Angels, 4-2 (from the Detroit Tigers.com scoreboard)
31:44 - some clips of the dust-up from MLB.com
32:42 - Park Colony Club
35:52 - ...still waiting…
36:24 - Air Margaritaville's song "Whatever It Was I Didn't Do It" is off their Cayo Hueso CD.
37:46 - the obligatory Commonwealth Displays link
40:03 - this was just mentioned in the previous entry, but here's a link to it anyway
43:18 - will Scott find Margaritaville Rum at Meijer's? Stay tuned…

> Download Episode 135A
Posted by

.(JavaScript must be enabled to view this email address)

on 09/02 at 10:54 PM
Show Notes • Images • Videos • Mike's Travels • (2) Comments • Permalink
Page 1 of 1 pages