Latest from WAOTNC
Monday, February 24 2014
Episode 184: Fallow Fall Follow-Up
Show Notes:
Recorded Monday, February 24 2014 at WAOTNC Studios South, Brownstown MI
"A mini-episode, to share the concert round-ups from Phoenix and Las Vegas."
As usual, the clip from Phoenix was edited slightly, for pacing reasons (skipping the second verse).
Re: the Las Vegas round-up: the Willie Nelson story comes from the intro to "Somethin' 'Bout a Boat", Utley catching the beach ball is from the intro to "Come Monday", Shania's horses were discussed during the "Pencil Thin Mustache" intro (which also began the porch band set), the grog mention is obviously from "Pirate Looks at Forty", and the "Back Where I Come From" mis-start is not my edit (hence its inclusion).

> Download Episode 184
Posted by

.(JavaScript must be enabled to view this email address)

on 02/24 at 06:34 PM
Show Notes • (0) Comments • Permalink
Saturday, February 22 2014
Tekzilla
Worlds collide. Jimmy Buffett showed up in this morning's Tekzilla podcast.
Posted by

.(JavaScript must be enabled to view this email address)

on 02/22 at 11:44 AM
Blog Posts • Videos • (0) Comments • Permalink
Saturday, February 1 2014
Episode 183: Hud's Thing on a Thing
Show Notes:
Recorded Wednesday, January 22 2014 (10:30 - 11:30 PM) at Zodiac Racquet Club, Southgate MI
"Still trying to get through the 2013 tour before the 2014 tour starts. This week: roundups from the first Las Vegas show and the Denver show. (Special guest: Hud. Cameos by Julie and Annie.)"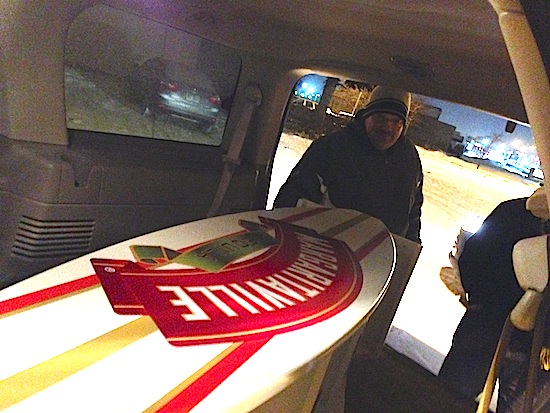 Note: Hud's thing is smaller in the cold.
Also, Hud's Jamaica photos have been added to our photo gallery.

> Download Episode 183
Posted by

.(JavaScript must be enabled to view this email address)

on 02/01 at 11:46 PM
Show Notes • Images • (0) Comments • Permalink
Page 1 of 1 pages