Latest from WAOTNC
Thursday, August 21 2014
Episode 195: Schmoe di Tutto
Show Notes:
Recorded Wednesday, August 20 2014 (10:30 - 11:30 PM) at Drinks Saloon, Brownstown MI
"The boys finally get around to discussing month-old news stories, two recent fourcast questions, and the latest concerts from the fourth leg of the tour."
Schmoe inadvertently inspires a title that coincidentally honors Robin Williams. An alternate title was "The Schmoey with the Spinning Head".

> Download Episode 195
Posted by

.(JavaScript must be enabled to view this email address)

on 08/21 at 04:00 PM
Show Notes • (0) Comments • Permalink
Monday, August 11 2014
Episode 194: Pole Position
Show Notes:
Recorded Wednesday, August 6 2014 (10:00 - 12:00 AM) at Cantina Hud, Trenton MI
"A mega-episode as Mickey, Schmoe, Mike, and special guest Hud go into ridiculous detail discussing the July 26 Jimmy Buffett show at Comerica Park, Detroit MI."
I got confused between Detroit Guitars in Birmingham and all the golfing, dining, and hoteling was in Bloomfield.
Here's the Groupon (or Living Social?) ad Schmoe sent us. I've never seen him use so many f-bombs in a text before.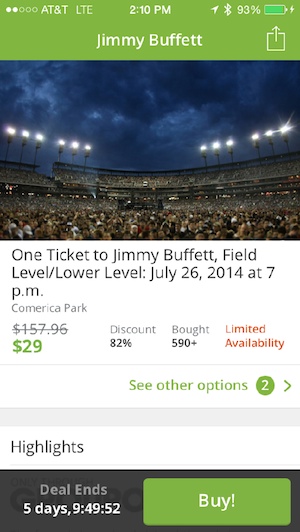 "This groupon was a[n] ass fucking wrapped in an email"

> Download Episode 194
Posted by

.(JavaScript must be enabled to view this email address)

on 08/11 at 05:49 PM
Show Notes • Concert Reports • (0) Comments • Permalink
Page 1 of 1 pages