Bonus Audio
Latest from WAOTNC
Thursday, June 29 2006
Episode 7: Stranded on a Sandbar
Show Notes:
Recorded Wednesday, June 28 2006, (9:00 PM - 11:00 PM) at Big Al's in Gibraltar MI
"A veritable Sargasso of a show, as our cast (Schmoe, Mike, Mickey, Greg, and Schmoe's sons Jacob and Nate) struggle to find the Topics of Conversation: more Caseville, souvenirs, Uncle Warren, a shoutout to Jackson Quigley, and memories of Buckeye Lake '93."
We sensed this would be a sub-par show, only because there's so little to talk about. Jimmy would be back performing, but this would ne the day after our podcast. Nevertheless, we talked for ninety minutes, mainly hashing out plans for the Caseville road trip (and still got to watch some of the NBA draft). The references to Chicago are about some plans to see Roger Clyne in November. Tickets will be only $8 [hear that Jimmy?], and it's felt that attendance is inevitable now that Mike & Joe learned the opening act is called "Mike & Joe" and the place is called Joe's Bar. And as far as remembering the song lyrics to "Life is Just a Tire Swing", Mike is correct and Mickey is wrong.
Greg piqued the curiosity of fellow Big Al's patron Mary, who dropped by our recording studio for a brief visit. And if Schmoe seems a bit more loquacious tonight perhaps it's because of his birthday shot of Cuervo. Happy Birthday Schmoe! Feel free to send him birthday greetings at .(JavaScript must be enabled to view this email address). [I think that's the address he said.]
Folliclephobia is not the accepted term for fear of hair. According to the Phobia List, "chaetophobia" is.
Culture references: The Chris Farley Show, a Weenologist business card, "three is a magic number". The book title Greg and Mickey can't figure out is Invest Like Warren Buffett, Live Like Jimmy Buffett. (And did you ever notice how people still misspell Jimmy's last name but hardly ever Warren's?)
For those of you who keep confusing Jimmy and Warren, Stephen Colbert, American hero and host of The Colbert Report, has this handy reminder (from his March 10 show, where he took a look at Nebraska's Second District—"the Fighting Second"):
The venerable Jackson Quigley, also known by his nom de web "BUBBAFREAK" and whose website can be accessed here, is a vocal supporter of the podcast…and we hope he doesn't mind a little good-natured ribbing now that we've mentioned him on the show. His JimmyDotCom book is out-of-stock at Amazon.com and Barnes & Noble.com, but you can still order an autographed copy here. We've already ordered ours!
P.S.: Greg's first "Cowboy in the Jungle" attempt was in 1993. He succeeded in hearing it in 1997.

> Download Episode 7
Posted by

.(JavaScript must be enabled to view this email address)

on 06/29 at 06:37 PM
Show Notes • Bonus Audio • (2) Comments • Permalink
Tuesday, June 20 2006
BONUS: 2006 Radio Ad
I recorded WCSX (94.7 FM) for eight hours Sunday and Monday to catch this ad. It aired at 9:22 AM Monday, less than an hour before Pine Knob tickets went on sale.
Yes, they're still using audio from Feeding Frenzy.
And here's the ad from Sunday's Detroit Free Press, from page 3F of the "Entertainment" section.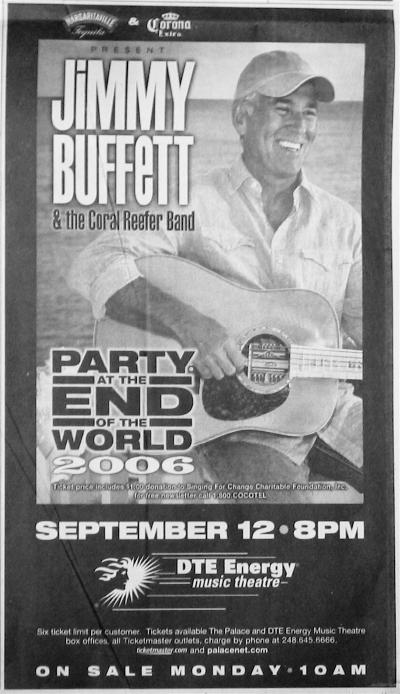 Second Free Press ad
Posted by

.(JavaScript must be enabled to view this email address)

on 06/20 at 10:37 AM
Blog Posts • Images • Bonus Audio • Concert Ads • Radio Ads • (1) Comments • Permalink