Concert Ads
Radio and newspapers ads
Latest from WAOTNC
Saturday, May 27 2006
Episode 2: Low Battery
Show Notes:
Recorded Wednesday, May 24 2006, (9:30-11 PM) at Big Al's in Gibraltar MI
"Guests stars: Scott, Greg, Greg 2.0, and Patti. Despite the tape trouble we still manage to talk too long about Buckeye Lake, Buffett parties of yesteryear, and, once again, Alpine Valley."
The audio editing was finished Thursday morning, but not soon enough to upload it before the work shifts started. Thus these notes are actually posted in advance of the podcast itself.
It's official, our emcee is now Greg 2.0, who begins every show by ridiculing us. Not only are the core three speaking tonight, but we have two guest stars: Sublymonal Greg and Alpine Valley Patti. It was a marathon session, but a large chunk of it was lost due to battery problems. Only the first five minutes of the podcast survive from the first tape; the remainder of the cast comes from the forty minutes recorded on the second tape. (And that constant squeaking noise is a ceiling fan.)
What was missed: Schmoe is still obsessed with a Nicolette Larson concert CD, sled dogs, and confusing "T" with "P". And boy was that cat story hilarious! [By the way, as Scott could tell you, if he cared enough to record something, the version of "Margaritaville" from the Nicolette Larson tribute is not available separately in iTunes.] Plus, Mickey did extensive research on concert tickets. Unlike usual, he verified the research before announcing it on the cast, in an attempt to not be so prominently corrected in these show notes; but since it did not recorded, it ends up in the show notes anyway.
DTE Music Theatre had a two page ad in Sunday's Free Press (2F-3F) which finally announced tickets for Jimmy Buffett's September 12 concert go on sale June 19.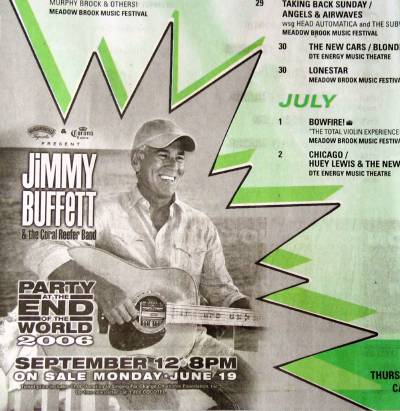 First local ad for 2006 show
The Palacenet website states lawn tickets cost $36.50 and pavilion seats are a whopping one hundred dollars more! This makes it the most expensive concert in DTE's summer line-up. In comparison, Bruce Springsteen is only $92.50; Ozzfest is 86.50; Counting Crows/Goo Goo Dolls are $67.50; John Fogerty/Willie Nelson are $59.50. The second most expensive show at Pine Knob? $128.50 for Crosby Stills Nash & Young.
Not only is Buffett's $136.50 the most expensive show at Pine Knob, the Pine Knob show is almost the most expensive stop of this first leg of Buffett's summer tour. All the other shows are $126.50, but for some reason Jimmy has to add ten bucks when crossing the Ohio border. Maybe this surcharge is the reason he hasn't performed here for a few years. The most expensive stop is New York's Jones Beach, where the top ticket price is $156.00. (By comparison Crosby Stills Nash & Young's top price is an incredible $251! And this isn't just some high-priced New York thing, since the John Fogerty/Willie Nelson show is the same $59.50, and the Counting Crows/Goo Goo Dolls show is actually cheaper: $49.50.) Remember, these aren't packages or broker prices; these are face value.
A quick look at Ticketmaster reveals pavilion seats are still available for Alpine Valley. Mickey was able to reserve three seats, together, in row U of section 201; but, oddly, Mike and Patti were not interested During Mike's Bocephus story Schmoe and Mickey are look at a sheet with "the year on the back". The sheet is a print-out of a ticket for a 1975 Portland (OR) show. The King Kong Trio was a mini-tour in the mid-80s of Jimmy, Mike Utley, and Robert Greenidge. Mickey's "cartography classes" jest is another Arrested Development reference. Take it from us, it was much funnier on TV. We advertently reported Greg's leg was amputated following Episode 0.5. This was printed in error. The movie music comes from Willy Wonka & the Chocolate Factory—but you already knew that. And the robot's name is Ralph.
Jimmy will be on the Today show Friday morning. Mike and Schmoe will be Cedar Point-bound and will miss it. At his last appearance, Jimmy asked Katie to request what song he would play; conventional wisdom says she'll point at the middle of the back cover of Songs You Know By Heart and will choose "Cheeseburger in Paradise". And then, a week later, Jimmy's tour kicks off in Atlanta.
As per request, here's your chance to help decide details of our special remote podcast…
[And, once again, hats off to 24cast, from whom we get our best ideas.]

> Download Episode 2
Posted by

.(JavaScript must be enabled to view this email address)

on 05/27 at 02:45 PM
Show Notes • Images • Concert Ads • Polls • (3) Comments • Permalink