BONUS: 2006 Radio Ad
I recorded WCSX (94.7 FM) for eight hours Sunday and Monday to catch this ad. It aired at 9:22 AM Monday, less than an hour before Pine Knob tickets went on sale.
Yes, they're still using audio from Feeding Frenzy.
And here's the ad from Sunday's Detroit Free Press, from page 3F of the "Entertainment" section.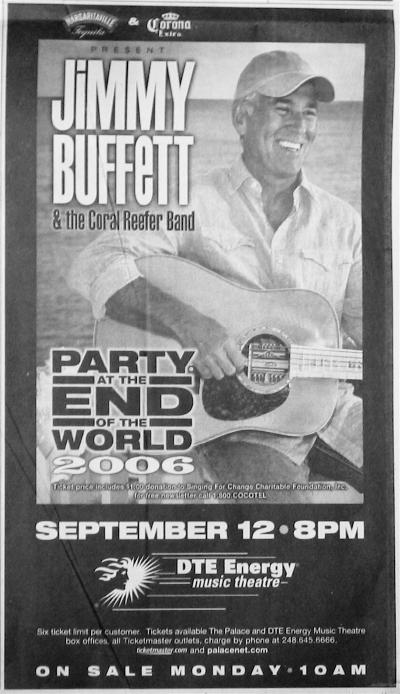 Second Free Press ad
Posted by
.(JavaScript must be enabled to view this email address)
on 06/20 at 10:37 AM
Great little tidbit Boys! This Podcast continues to improve. I think you've got something here. Keep it up.

I was lucky enough to be involved with the Parrot Heads that were among the first to show up on the Internet. I later referred to them as the Undergound World of the Internet Parrot Heads. Bob and JD at AOL's Parrot Key, the Jimmy Buffett altfan group, the Buffett List Serve (even though I thought the guy that ran it, Bill Lack, was a big old jerk), Chris Wilson at the Church of Buffett and my good buddy Billy Peoples tying it all together. All of them pioneers!

Now it looks like I'm here at the start of the next phase of it all. And the group leading it all seems to be this bunch of dudes from Detroit that have the balls to be the first to step to the plate with a Buffettesque Podcast.

Being an Online Parrot Head is fun again. I hope a bunch of people will join me in taking the Underground world of Internet Parrot Heads to that next step.

I have been thinking of starting my own podcast and wondering where we can go as fans of Jimmy Buffett with this new exciting technology. It's time we take being an Internet Parrot Head up a knotch. And now these guys turn up as my inspiration.

I am starting a group called the Parrot Head Podcasting Network, and these Detroit Boys are the first I'm inviting to join.

What do you say "North Coast"? I'd like you to join me on the Board of Directors of the PHP Network.

Jackson Quigley
The Parrot Head formally known as BUBBAFREAK.