Episode 105: Fore-Skins on Tour
Show Notes:
Recorded Wednesday, July 8 2009 (9:30 PM - 11:00 PM) at Joe's Prime Time, Brownstown MI
"Fresh from visiting Key West Coffee & Cafe, the boys return to an old favorite haunt. Includes a look at the two Camden shows, 'This Week in Buffett', and Mike using 'decor' and 'ambience' in a sentence. (Special guests: Larry and Rachel. Cameos by Jacob and Nathan.)"
Don't be put off by the show title. Fore-Skins is the name of our golf league.
00:00 - the sponsorship announcement comes from the 7/10 "NPR: Most E-Mailed Stories" podcast
02:02 - the new and improved Key West Coffee & Café site
04:01 - not sure where I saw the first set of reviews now, but here are several for your perusal
09:41 - way back in high school I helped Mike write a poem. I now can only recall the opening verse:
Insects
always make terrible pets
If you take them for walks
they'll go for your necks.

You can't put them in cages,
they'll go through the bars
and get themselves smashed
on the windshields of cars.
11:16 - ...but we'll link to Cutter Advanced anyway
13:25 - well, here's a web ad for Landshark: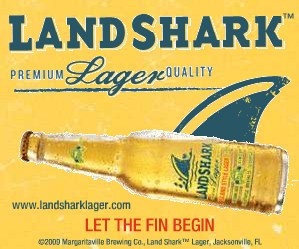 ...but I still haven't seen a poster or a TV commercial.
14:54 - Google street view for Key West Coffee & Cafe
16:15 - the Shark Invitational is our own little mini-Olympics wherein Larry tries to endanger and maim us every year. Here's an old Shark Invitational video from 2006
16:32 - a reference to Guys' Shopping Night, December 2000, where I got completely wasted at Ruby Tuesday's, was found passed out in a bathroom stall, and had to be deposited at Larry's house for the night. Admittedly, I had had a lot to drink, but since it was all beer it seemed incongruous I would become that comatose. I later discovered that it was actually a reaction to sesame seeds—in particular, while rotating through the South Beach diet meal plan, the sesame chicken dinner, which includes a double dose of sesame seeds and sesame oil. All of this was cut out of the recording since it was so tangential, but I include it here for the sake of transparency
16:45 - some more stuff from the archives. Here are my two photos from the big cheeseburger eating contest…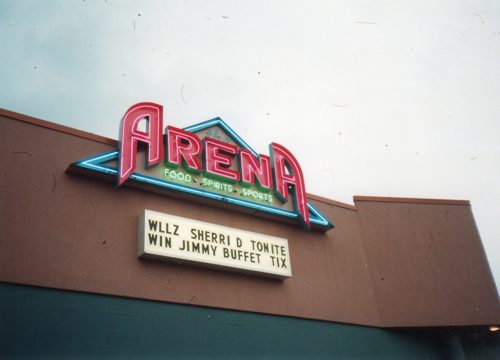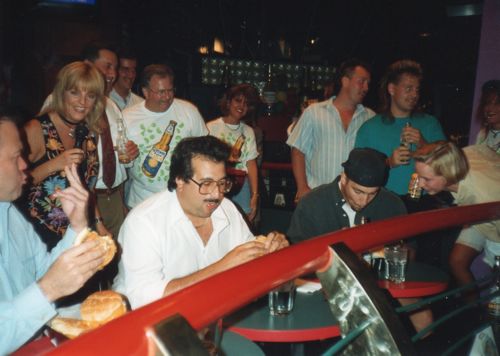 17:51 - Buffett World post on the London show
18:24 - Radio Margaritaville's Summerzcool Contest
18:43 - Buffett News's write-up on the ESPN doc
20:51 - it might sound like we're repeating the drunk chick's love call, but each one is different—and there was more where that came from. Those are just the screams from between songs.
23:48 - Summer 2009 started at 1:45 AM (Eastern) that night (June 21)
26:36 - Boston Globe interview
26:41 - Buffett News's Men's Journal scans
27:08 - the clip comes from the 7/01 Daily Show, during an interview with TIME columnist and author of The Myth of the Rational Market, Justin Fox.
28:01 - from MacBreak Weekly #143. Voices are Alex Lindsey, Scott Bourne, Andy Ihnatko, and Leo Laporte. Lost in the editing is that Alex Lindsey is discarding pants because he's losing weight. (...And what the heck, here's a Boone's Farm link.)
29:44 - here's a link to the SModcast podcast but I've listened to far too many of them too quickly to identify the particular episode I'm talking about. Besides, I've heard "Cheeseburger" and "WDWGDAS" since then too.
30:16 - Larry was about to bring up Roger Clyne

> Download Episode 105
Posted by
.(JavaScript must be enabled to view this email address)
on 07/15 at 12:13 AM
Our show is saved by a terrific concert recap.

Posted by

Schmoe

on 07/20 at 07:20 AM