Episode 126: Dagadagadagadagadannnng!
Show Notes:
Recorded Wednesday, April 21 2010 (9:30 PM - 11:00 PM) at Joe's Prime Time, Gibraltar MI
"Season 9 already? The boys share their initial reactions to Encores, and Schmoe ... well, the less said about his subplot the better"
Dank! (Can't forget that little stinger after the big final chord.)
00:09 - Martian Invasion of Races
00:33 - Body Glide
01:01 - I bet I know why! Cactus Boy and Cactus Boy 2
01:31 - if you still want to after seeing the following photo, you can befriend Schmoe on Facebook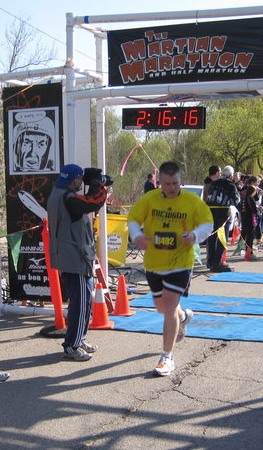 Yaaay! ....Eewwwww!
04:09 - "Fun Run" was the two-part fourth season premiere of The Office. Read about it at the Office Tally fan site.
05:27 - a reference to a story Schmoe told at the end of Episode 113B
05:56 - we did brainstorm some nipple-related show names, but ultimately rejected them. Besides, it was likely the names would've been censored by some podcatcher programs and sites.
08:30 - "Buffett to Expand Business Empire to Middle East", from Buffett World
10:12 - Hollywood FL opts for Margaritaville over Planet Hollywood: Buffett News mention | Buffett World mention
10:24 - the World Beer Cup site. (The competition was held in Chicago, not Colorado. Either my eyesight has really gone or the article I read originated from Colorado.) List of World Beer Cup 2010 winners. And the winners' sites: Tiger Crystal, Quilmes Cristal. and Landshark Lager
11:04 - GAC's The Collection link
11:37 - I wish the levels were better, so it would be easier to make out what Alan Jackson is saying, but that audio mix is straight from the TV show
12:38 - "Jimmy Buffett" on South Park #200 and #201. ("Jimmy" shows up in both but only speaks in the first.)
13:09 - play the Where's Jimmy?© game:
13:51 - "Buffett Lecture at University of Miami", from Buffett News
14:15 - National Record Store Day
14:40 - Dearborn Music link
14:52 - Encores at Walmart.com and at M'ville.com
17:07 - my obligatory Whedonesque reference
21:23 - Hits Daily Double prediction: Buffett News mention | Buffett World mention
22:40 - I'm in error here, evidently getting my tours confused. Tim Krekel passed away June 24 2009, a year after most of Encores was recorded.
28:45 - added four videos to our VHS Tape Library on April 1: the Today show (1998), Larry King Live (1998), Charlie Rose (1999), and the Tonight show (1999)
29:05 - split the RSS feed, early in the morning on April 2: link for the up-to-date feed, link for the archive feed. (Paste those links into your podcatcher software.)
30:54 - iTunes link to archive feed (and, what the heck, here's the iTunes link for the up-to-date feed too)
31:30 - Skype us at NorthCoastCast
32:06 - added photos from 1997 and 1998 on April 16 to our Gallery, and photos from May 1996 and June 1996 on April 17

> Download Episode 126
Posted by
.(JavaScript must be enabled to view this email address)
on 04/22 at 10:05 PM