Episode 135A: The First Half
Show Notes:
Recorded Wednesday, September 1 2010 (9:30 PM - 11:30 PM) at Zodiac Racquet Club, Southgate MI
"The boys discuss how they spent their Summer vacations, with stories about Caseville, Parrothead Night with the Detroit Tigers, finding Margaritaville Rum, and uncovering a Landshark bottling mystery. Plus Scott reviews Tom Corcoran's Key West book. (Cameo by Jennifer.)"
00:36 - looks like Scott last joined us back in Episode 129! Sheesh!
01:26 - our tenth season, right? But Season 9 feels like a writers' strike season, since we did so few episodes. Or maybe an AMC season.
01:31 - watch the documentary and get the lowdown on that "shadows tall" line in the show notes for Episode 98
03:32 - apparently Schmoe thinks Caseville is like Brigadoon
03:47 - Cheeseburger in Caseville (and another link to our 2006 videos)
03:56 - No. In 2006 and 2007.
06:15 - a callback to Mike and Schmoe's Mexican vacation, which was discussed in Episode 69A
09:12 - which would be August 14
10:07 - the Freep's Cheeseburger in Caseville article, from August 5
10:44 - the article as sent to Mickey by Mike, in PDF format
11:29 - yes, all this time Scott has been absorbed in reading the Tom Corcoran book Mike brought for show-and-tell
12:07 - Jimmy Buffett: The Key West Years
(2006) by Tom Corcoran
12:50 - Air Dance Iguana
(2005) by Tom Corcoran
15:39 - Life Lessons of a Legend
by Brad Manard | Steve Goodman: Facing the Music
by Clay Eals | Jimmy Buffett and Philosophy: The Porpoise Driven Life
by Erin McKenna & Scott L Pratt
25:41 - here's Schmoe's photo, sent way back on the morning of July 31. We saved it for the podcast rather than posting it on Twitter; little did we know how long it would take till we got around to discussing it.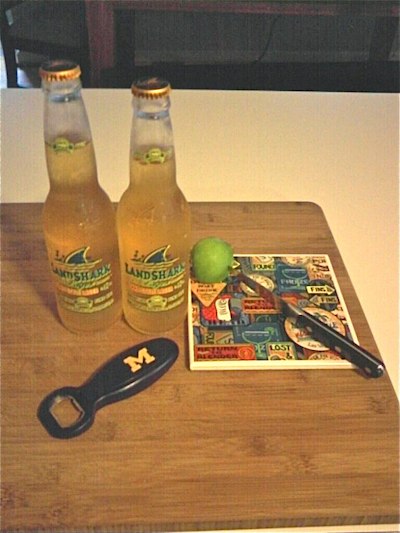 Schmoe's Momentous Discovery
(the St Louis bottle is on the right)
And here's what Schmoe wrote to accompany the photo. We assume he was drunk.
Where is YOUR Landshark From?

---

To my fellow Shark lovers,
When Mick enlightened me this week that I had Landshark at Nate's party that was from St Louis, I realized I look numerously at the 'Jacksonville' on the label and never saw another city. I checked it out and, YES, I had Sharks from both cities in the Cantina Icebox. Not only that, but the St Louis bottle is a shorter longneck. The St Louis brew was a full case I purchased. The Jacksonville lager was personally delivered inside a 12 pack per usual. (Still, Zodiac considers our beer an 'import', but I digress…)
I conducted a taste test last night. They both rated the same: wet, cold, smooth, lime-friendly, relaxing, and an excellent finish with a high chill factor.
I provided a photo for reference.
End of report…for now…....
29:01 - Caribbean Blue
30:51 - here's some of Mike's video footage from Comerica Park (uploaded September 6 but then revised and re-uploaded on the 7th)

All the mentions of Brian are explained in Episode 128.
31:35 - the Tigers lost to the Angels, 4-2 (from the Detroit Tigers.com scoreboard)
31:44 - some clips of the dust-up from MLB.com
32:42 - Park Colony Club
35:52 - ...still waiting…
36:24 - Air Margaritaville's song "Whatever It Was I Didn't Do It" is off their Cayo Hueso CD.
37:46 - the obligatory Commonwealth Displays link
40:03 - this was just mentioned in the previous entry, but here's a link to it anyway
43:18 - will Scott find Margaritaville Rum at Meijer's? Stay tuned…

> Download Episode 135A
Posted by
.(JavaScript must be enabled to view this email address)
on 09/02 at 10:54 PM
You don't know Tom Corcoran? He co-wrote some songs (Fins, for one..) with Buffett and is supposedly an old friend.

I greatly enjoyed his novels and 'The Key West Years..

jon

Posted by just jon on 09/03 at 02:42 PM

Ha! Brigadoon!

Posted by

Schmoe

on 09/07 at 12:10 PM