Episode 159: Elements in the Wallpaper
Show Notes:
Recorded Wednesday, March 7 2012 (10:00 PM - 12:30 AM) at Zodiac Racquet Club, Southgate MI
"Headlines, Clyne talk, a podquest, and at long last we say goodbye to 2011 with four, count 'em, four concert montages. (Special guests: Joe Maj and Annie. Cameo by Jennifer.)"
Not sure what happened with the audio levels. Nothing was changed since the last recording, yet the entire recording is over-modulated. Thankfully there are only a few brief instances where it might be considered a problem.
00:26 - a close-up of Schmoe's basement wallpaper (shot on May 28)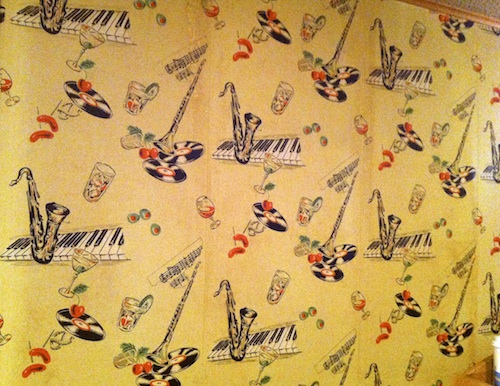 Mad Schmoes, Sundays on AMC
00:39 - "Cocktail Wienies" was in the running for episode title
07:54 - just a reminder, these are clips from Las Vegas, Denver, Phoenix, and Vegas again.
09:53 - me too!
45:35 - the album under discussion is Bruce Springsteen's Wrecking Ball. The "Scott" Joe Maj mentions is someone other than Podcaster Scott.
48:47 - "Buffett recommended for license by Nevada gaming regulators", from Buffett News | "Buffett Answers Questions at Nevada Gaming License Hearing", from Buffett World
49:00 - "Buffett appears at groundbreaking for Margaritaville Casino", from Buffett News | "Video from Margaritaville Groundbreaking in Louisiana", from Buffett World
49:55 - not much suspense in regards to our first podquest. The answer was already posted below.
50:14 - Matt Hoggatt
50:28 - during our many tangents, Joe Maj repeated the Gone with the Wind quote "Frankly my dear, I don't give a damn." And I felt compelled to point that this is differs from what was originally written in the book. ("My dear, I don't give a damn.")
50:43 - that concert roundup doesn't appear till Episode 161.
50:57 - "Margaritaville Mobile Companion App for iPhone", from Buffett News | "Margaritaville Mobile Brings the Buffett Experience to the iPhone", from Buffett World
53:19 - the complete opening monologue is viewable on YouTube
56:19 - "Top 11 Music Tumble and Falls of 11" at Antimusic.com
57:29 - "Concussion Led to Stage Dive" at Contact Music.com.
58:30 - "Discover Jimmy Buffett's lost musical treasures" at Jacksonville.com.
62:22 - actually we won't get to it till Episode 161
65:10 - Season 37, episode 14. Aired February 11.

> Download Episode 159
Posted by
.(JavaScript must be enabled to view this email address)
on 03/13 at 11:37 PM