Episode 165: A Lot Off
Show Notes:
Recorded Wednesday, August 8 2012 (10:00 PM - 11:30 PM) at Joe's Prime Time, Brownstown MI
"Our big Detroit concert podcast! So big it had to be split into two parts! (Cameo by Hud.)"
Photos of the day are at Flickr.
My video of the tailgating is at YouTube.
06:35 - "second lowest": second highest of course. Maybe I meant to say "next lowest"
07:48 - my tweet (previously posted below). By the way, Jimmy, the baseball stadium is "Co-mer-ica" Park (named after Comerica bank) and the football stadium is Ford Field.
19:37 - now I'm showing my own ignorance (...again). I never put steak sauce on a burger so I have always assumed, till just this moment, that Jimmy's mention of "Heinz 57" had to be as ketchup for those "french fried potatoes" of his. (And despite Jimmy talking about it at length during the Episode 153 concert roundup that I edited.)
21:44 - from Listener Wally's Facebook page: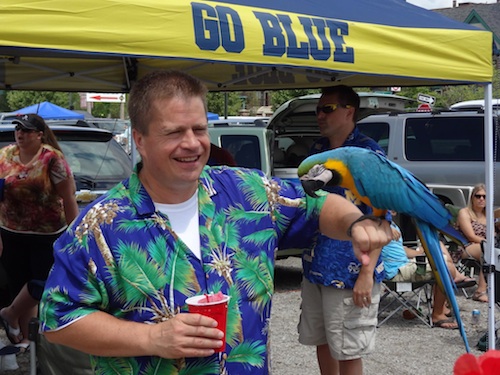 Parrotwrist
27:29 - NERD! (It's a reference to the Doctor Who Series 6 episode "The Wedding of River Song".)
27:29 - ex-or-bi-tant ... not, "sorbet"
37:50 - Google says the distance is 37 minutes (at 30.7 miles)
39:20 - here's the link to the Flickr set again; and here's a photo of the limo gang and a photo of the infamous pitcher (and ice balls)
40:05 - Arthur and the limo
40:43 - here's the tailgate video link again
42:28 - Annie is convinced tapping one's fingertips together is a "Smithers" rather than a "Mr Burns"
52:31 - I heard this part first, thinking he'd only barely noticed my tweet. It wasn't till watching my recording later on that I found out he'd seen it twice.

> Download Episode 165
Posted by
.(JavaScript must be enabled to view this email address)
on 08/17 at 11:02 PM