Episode 169: Beyond the End
Show Notes:
Recorded Wednesday, December 19 2012 (11:00 PM - 11:30 PM) at Zodiac Racquet Club, Southgate MI
"It's Doomsday +1 and we made it through to bring you some holiday cheer, three more concert round-ups, and our best wishes for happy 2013. (Special guest: Joe Maj. Cameos by Kate and Jennifer.)"
Yes, we know, the show title is close to the same as Episode 80. We couldn't resist. But really, can you blame us?
01:42 - No, that's not Kate laughing. It's probably JoeMaj, off mic.
01:51 - we refer of course to the big $550 million Powerball drawing, of November 28. Schmoe labels his ticket bogus because he was tricked into purchasing after ten:thirty and thus the ticket was only valid for the next drawing.
03:00 - "Buffett Sells Cheeseburger in Paradise Chain", from BuffettNews.
06:27 - The Margaritaville Mixed Drink Maker is available from M'ville Cargo and at Bed Bath & Beyond
08:20 - "Buffett narrates new PSA for Manatee Awareness". from BuffettNews | "Buffett narrates new PSA for Manatee Awareness". from Buffett World
08:35 - "Buffett visits the White House", from BuffettNews | " Buffett Makes Rounds in Washington DC", from Buffett World
08:55 - footage of "God Bless America" from YouTube
09:05 - Get the "All Night Long" video from the US iTunes Store
11:46 - Jimmy also joked he was going to put on the best show the audience ever saw — if only because the location (the Botanical Gardens) had never hosted a concert before
21:34 - Singing for Change
24:20 - Jimmy also played a lovely solo acoustic medley of "Banana Republics" and "Cowboy in the Jungle", but it was too long to include here
24:42 - Jimmy and Mac, photographed by the Margarillas on Facebook (November 26) | or try this non-Facebook link
25:06 - Thanksgiving dinner from M'ville Foods Direct is no longer offered.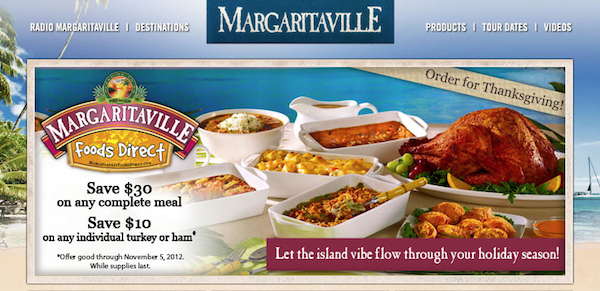 Here's the ad, as emailed back on October 25
27:47 - Robert Greenidge's Coral Reefer Christmas
, from Amazon. Schmoe & Mike also recommend the Tennessee Christmas
compilation (whence comes "Christmas in the Caribbean"), but their discussion of it was cut from the episode.
27:54 - that noise sounding like an old man blowing his nose is actually Zodiac's new P.A. system

> Download Episode 169
Posted by
.(JavaScript must be enabled to view this email address)
on 12/22 at 10:18 PM