Episode 17: Wet Wet Wet
Show Notes:
Recorded Tuesday, September 12 2006, (11:00 PM - 12:30 AM) in Clarkston, MI
"The North Coast boys, live in concert. Direct from the Pine Knob parking lot, where they tailgate and share their reactions to Jimmy's first Michigan show in three years."
Listener Barbara from Florida commented back in June how she could not "wait for the video cast of the official tailgate party". We knew ahead of time that, sadly, she was destined for disappointment. We were never ones for elaborate tailgating, realizing early on that it's more fun to devote the time to drinking and eating than in putting up decorations or putting on costumes. And the last couple times, most of us haven't even taking the day off from work. I did, but spent most of the day in front of my computer, reading the live blogs on Apple's latest announcement. I actually hated to leave at two, since I was not able yet to see what the new iPods looked like. I got to Joe's at three, and was quick to use his son's laptop to check out the online Apple Store. Greg showed up soon afterward, and after packing up Schmoe's vehicle we repeated the start of our Caseville trip to go pick up Mike at work.
There was a Meijer's nearby so we were able to get some extra supplies. We packed most of the Coronas and Twisted Teas and tequila ahead of time, and we were able to get some food and some ice now. I also made sure to buy some backup batteries for the podcast we planned for after the concert.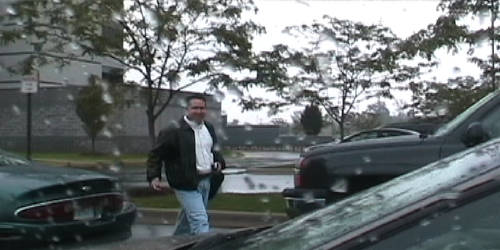 Picking up Mike from work, at 4:10 PM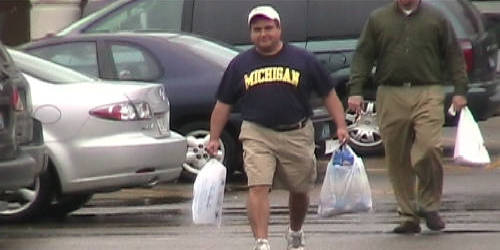 Greg gets supplies from Meijer's.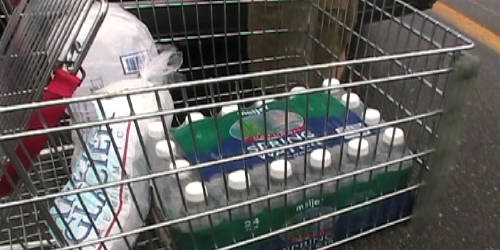 A sure sign we've gotten old: a case of water instead of beer.
I think we got to Pine Knob at five. It had been drizzling all day, but plenty of people were still dedicatedly partying. We had the cover of Schmoe's canopy, which he uses for U of M tailgating. I had planned on trolling the parking lot for interviews, but that changed as the rain increased. Scott was tailgating separately, with his family, but he stopped by at around six.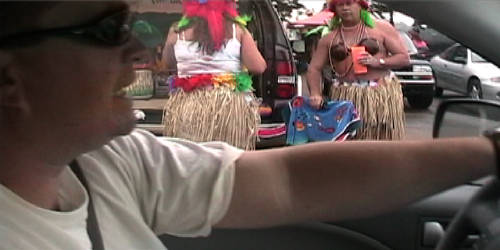 Cruising the parking lot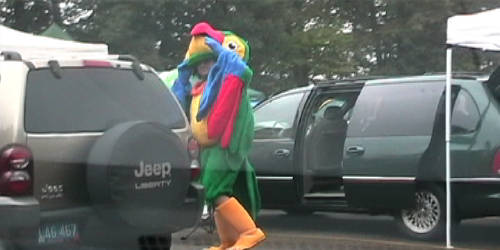 The Parrothead and Body combo
They misspelled "Pine Knob"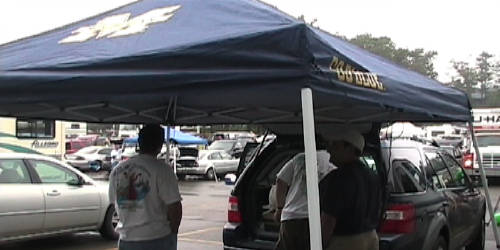 Our massive tailgating setup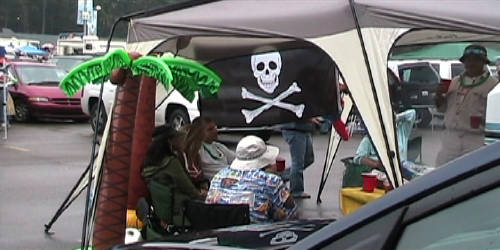 A neighbor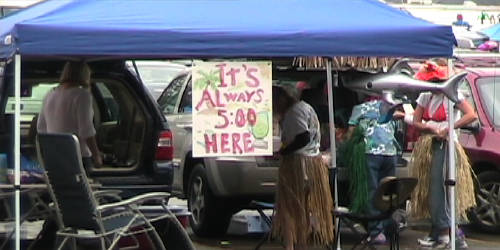 Another neighbor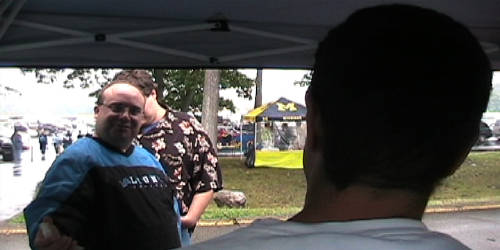 Scott and his brother stop by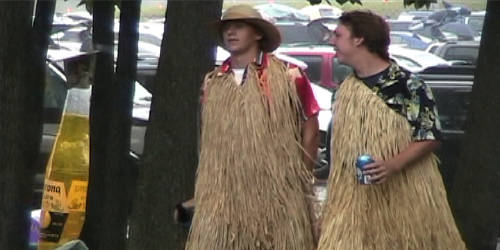 The redneck grass skirt? Grass toga? Grass overalls?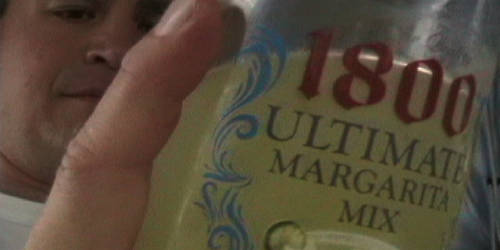 Let the drinking begin: Schmoe has the mix…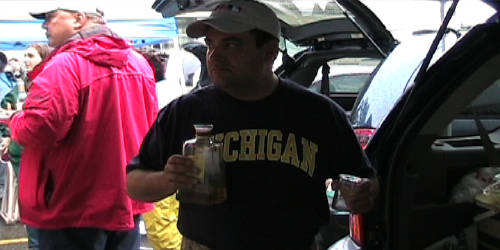 ...and Greg has the tequila. (Incidentally the guy behind Greg is the one who says "She's a keeper" during the episode.)
Joe and Greg had lawn tickets and needed to go into the venue early. We packed up and headed in at around seven. Right around then, the rain turned into a deluge and it did not let up for most of the rest of the night. Everyone was soaked to the skin and the lawn was a muddy mess. I met up with Greg and Joe outside the men's room, and they accompanied me to the souvenir stand where I bought a baseball cap. We then split up so they could go to the lawn and I could meet up with Mike in the pavilion.
The rain did not let up till right around the same time the concert ended. Mike and I found Greg and Joe more easily and quickly than expected; we all wound up together at the same men's room. We started recording the show as soon as we got back to Joe's vehicle. I tried to limit the episode to being about tonight's concert, but a few of our stories were worth keeping. Since they didn't necessarily fit, I include them here as a Show Notes Page bonus.
And this is a the setlist we discuss:
Singin' in the Rain / Hot Hot Hot
1. Brown Eyed Girl
2. License to Chill
3. Pencil Thin Mustache
4. It's 5:00 Somewhere
5. Grapefruit - Juicy Fruit
6. Come Monday
7. Floridays
8. Changes in Latitudes, Changes in Attitudes
9. Bama Breeze
10. Cheeseburger in Paradise
11. Why Don't we Get Drunk
12. Party at the End of the World
13. One Particular Harbour
(No Intermission due to rain)
14. Peanut-Butter Conspiracy (with Mac & Fingers)
15. In the City
16. Knees of My Heart
17. Window on the World
18. Son of a Son of a Sailor (with Fingers)
19. Werewolves of London
20. Greenidge/Mayer solos - Desperation Samba (Halloween in Tijuana)
21. Dixie Chicken
22. Volcano
23. Margaritaville

First Encore:
24. Fins
25. Southern Cross

Second Encore:
26. A Pirate Looks at Forty (with Mac & Fingers)
Posted by
.(JavaScript must be enabled to view this email address)
on 09/15 at 02:16 AM
Those pictures fill the ticket, and hey, thanks for the mention! Stop by myspace for my picture of a past tailgate…

Keep it up, I love the banter, I love the background noise, I love the fact that you are doing this everyweek.

Posted by

Barbara

on 10/01 at 08:30 PM