Episode 52: Strummed and Rum'd
Show Notes:
Recorded Wednesday, October 10 2007 (8:30 PM - 11:30 PM), at Casa de Greg, Dearborn MI
"The Roger Clyne podcast starts at 00:00. The boys reminisce about their weekend seeing RCPM in Detroit and Cleveland; and they interview Chad Heckler, the man who made Roger's new guitar. (Cameo appearance by Cathy.)"
Attack of the Clyne-cast, Part II.
We recorded two shows last Wednesday, the Roger Clyne show presented here and the "Bars" review we promised earlier. Schmoe couldn't round up enough people for wallyball so we ended up simply recording the show at Greg's house. His basement, specifically. We assumed the Clyne podcast would be brief, consisting of a quick wraparound to our interview with Chad Heckler; but we ended up talking for an hour and a half! What we'd assumed would be a quick and easy bonus show for the feed turned into our longest episode yet.
Chad Heckler's MySpace page.
Our locations in Ferndale: The Post, Howe's Bayou (link pending), and The Magic Bag Theater.
Here's the Waterin' Hole page where people first started discussing Roger's new guitar.
Chad's custom guitar for Roger: 1 | 2 | in action.
11:26 - Red 57
11:47 - Ha!. and you thought this show would have no Buffett content!
12:43 - Pictures of Roger's "Old Faithful":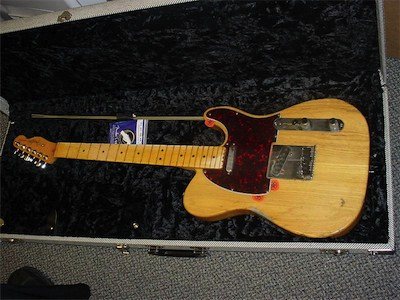 Old Faithful, front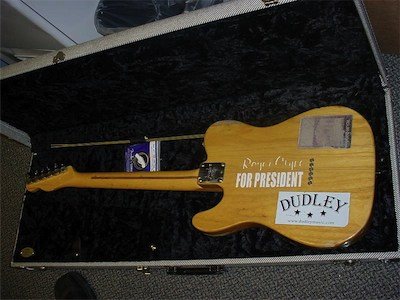 Old Faithful, back
13:02 - buy Fizzy Fuzzy Big & Buzzy direct from The Peacemakers
14:09 - Brian Blush
17:55 - Chad's favorites: Better Than Ezra and The Refreshments.
27:51 - Detroit concert recorded by yours truly. Much of what we talk about an be viewed in our Gallery: Detroit album
35:52 - The old Beatles song is "She Came in Through the Bathroom Window".
37:06 - yes, Cleveland refers to themselves as the "North Coast" and Wikipedia says that Michigan is really the "Third Coast". Too late to change our podcast name though, I guess. I still contend that Michigan's two peninsulas offer more of a coast than Cleveland's.
40:20 - ironically, while we were just down the street from the stadium we watched the midge attack on TV like anyone else
41:00 - Latvian dance music performed by Atštaukas
43:18 - Cleveland concert recorded by Matt Miller (complete recording available here). Much of what we talk about an be viewed in our Gallery: Cleveland album.
43:49 - Diana's MySpace page | Tippy's MySpace page. Tippy also has some excellent photos of the Detroit and Cleveland shows, over on her Flickr page.
44:47 - another one of those references to an old story from college
46:38 - Shelly and Tim's MySpace pages: 1 | 2
52:52 - Neti pot
62:21 - here's the video
Incidentally, this episode's title comes from Roger's song "Bottom of the Bay" off No More Beautiful World.

> Download Episode 52
Posted by
.(JavaScript must be enabled to view this email address)
on 10/14 at 02:55 PM