Episode 71: Listerween
Show Notes:
Recorded Saturday, June 7 2008 (10:00 PM - 11:00 PM) at Casa de Schmoe, Dearborn MI
"The boys make their deadline just under the wire, reviewing the last three of their ultimate setlists in time to hear Jimmy's own carefully chosen setlist on Tuesday. (Background vocals: Schmoe's & Mike's kids and a few oscillating fans.)"

Phew. I'm too old for these ten-hour, all-nighter editing sessions. I was determined to publish this episode before the June 10 concert -- secretly in hopes our selections might somehow influence Jimmy's own setlist -- so I edited between midnight and seven AM Monday night, crashed till nine, and then finished up the episode at noon. And, then caught a nice cold for the concert.
But enough about me. Here are the notes:
5:15 - Rock Band DLC "Cheeseburger" on YouTube. As always, the clips has been edited for time.
6:02 - Rock Band DLC "Volcano" on YouTube
6:28 - Rock Band DLC "Margaritaville" on YouTube
6:35 - oh yeah, that was Episode ...hgshajmmsn
6:53 - and who appeared in Episode 24
7:35 - the June 8 New York Times bestsellers [via Buffett News]
7:45 - the Billboard interview [via Buffett News]
7:50 - UPI's "Not Retiring Any Time Soon" article [via Buffett News]
8:28 - iTunes link for Jackson Browne's "Lives in the Balance" song (just imagine the chorus sung slower and less emphatic)
9:05 - Walmart's sale page and Mailboat Records' sale page. It doesn't look like Sam's Club sells the DVD online.
9:27 - another incident with Greg which has become folklore.
This is Scott's setlist
for you to read along (as a PDF),
just like the Word DOC he sent us back on April 29.
But, as mentioned in Episode 68, this, for some reason, is what Greg saw...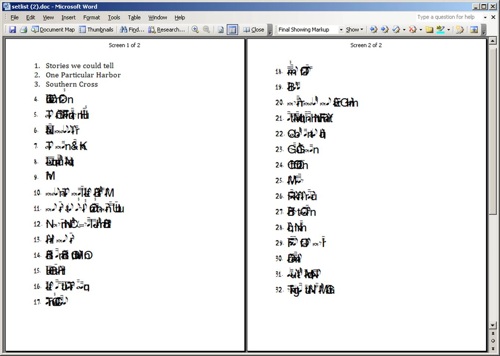 The perils of tabs and Lucida Grande
10:30 - Club Trini's Late Night Live
13:26 - and...
this is Schmoe's long, involved, and highly detailed setlist
(also as a PDF)
14:24 - at Pine Knob they'll let you get by with drinking if you at least conceal your beverage, which led me to the ingenious idea of pouring my beers into a Vernor's ginger ale bottle.
14:43 - Orson Welles by way of Edgar Alan Poe by way of Alan Parsons' Tales of Mystery and Imagination (the 1987 remaster)
16:43 - a lame impression of Homer in "Flaming Moes"
22:06 - Jay and the Americans
25:15 - Mike drafted his setlist on the spot and there was no need to e-mail it to anyone, thus there is no PDF to share. Instead, we'll just note the titles as he reads them:
Mike's Setlist

One Particular Harbour
Coconut Telegraph
Livingston Saturday Night
Boat Drinks
Leaky Little Boat
Cowboy in the Jungle
We are the People Our Parents Warned Us About
Come Monday
Creola
Distantly in Love
Dreamsicle
Son of a Son of a Sailor
Fins
Margaritaville

Brahma Fear (w/ Fingers)
Tin Cup Chalice (w/ Fingers)
Growing Older But Not Up (w /Fingers)
CILCIA
Mañana
Volcano
He Went to Paris
Lovely Cruise
A Pirate Looks at Forty / Redemption Song
Banana Republics
Cheeseburger in Paradise
Weather is Here, Wish You Were Beautiful
It's Five o'Clock Somewhere
Treat Her Like a Lady

First Encore
Trying to Reason with Hurricane Season
Twelve Volt Man

Second Encore
Wonder Why We Ever Go Home
Here's an outtake from tonight, captured after our recording was done. Being a follow-up to Mike's traumatic cactus attack, you might even consider it a sequel to the movie from Episode 69A.

Cactus Boy 2: The Prickening (HD) from ShortFatGuy on Vimeo.
Posted by
.(JavaScript must be enabled to view this email address)
on 06/09 at 11:31 AM