Episode 78: Schmype
Show Notes:
Recorded Wednesday, July 30 2008 (10:00 PM - 12:30 AM) via Skype
"Our bad luck streak with tech continues as the guys try their first Skype call to discuss Listener Ed's review of the Alpine Valley concert."

Greg and I were the first ones online for this call, and I recorded almost an hour of background noise as he made a late dinner and put his kids to bed. I thought I would improve my sound by talking into a USB microphone but in fact it picked up lots of room noise as well as fan noise from my desktop computer. Luckily I was recording myself on a separate track and could mix myself out when not talking. I guess it went okay, for our first time; and it felt kind of fun to be using Skype like the real podcasts do.
00:28 - a Blues Brothers reference, of course
01:04 - one was Mike, obviously; and the other was Schmoe
01:40 - one of those photos...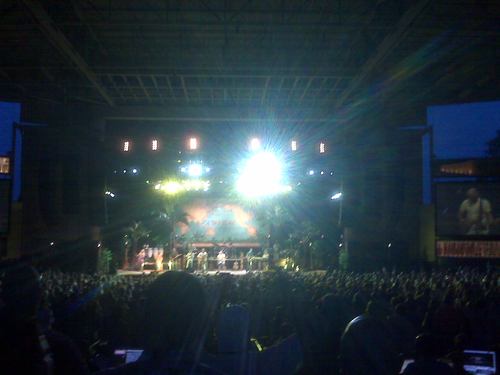 Jimmy in Indianapolis
02:49 - the Roger Clyne simulcast, live from Florida
04:06 - actually, the opposite: as host of the conference call, picking up on Schmoe meant I put Mike and Greg on hold
05:52 - here's your chance to read along with Schmoe... (More notes after.)

Gents,

Listed below is a review of the concert from last night. An incredible show to say the least.

Buffet Concert Review
Alpine Valley July 19, 2008

The tour of the parking lot prior to the show was unbelievable. It had been raining all morning. The sun came out & it got hot & humid. Everyone had been drinking a lot. Let's just say that for July 19th 2008, the Alpine Valley parking lot became the intersection of Sodom & Gomorra!

The Show:
They played AC/DC's 'You shook Me All Night Long' to get the crowd pumped up. Then they played Hot, Hot, Hot. Then Jimmy took the stage alone to start the show. Jimmy was very loose with the comments when he came out as well as all throughout the night. I t was just like the concert in Glendale, AZ for the opening of a new Margaretville. Jimmy was loose that day also. It was the old Jimmy. He wasn't patronizing the crowd. He was just having a good time & saying what was on his mind.

Set List
1 Why Don't We Get Drunk
Although I think this song has been overplayed over the years, Jimmy's solo version of this song on this tour was a very good performance and sure was a surprise he opened the show with this one. Jimmy stated that he needed to do this song to appease the rain gods of Alpine Valley.

2 Home Made Music
I never really liked this song, even the original version on 'Hot Water'. I did not like the Pine Knob version either. When they played it tonight, I thought it sounded pretty good. Interesting fact: Russell Kunkel co wrote this song. Russ played drums on seven James Taylor albums.

3 Tiki Bar Is Open.
This one was OK. It needed more horns. It needed Amy Lee & Tom Mitchell. I always enjoyed watching John, Amy & Tom.

4 Fruit Cakes
Jimmy updated the lyrics. It was a great performance of this song. The video screens showed the parties in the parking lot before the show.

5 Pencil Thin Mustache
One of my favorite tunes. John Lovell's performance was outstanding.

6 Miss You So Badly
Great song, great performance.

7 5'Oclock Somewhere
Another great song. Mac was great with this one.

8 Changes in Latitudes
Jimmy and the band got the crowd rockin' during this song. You'd have to be there to really get a sense of how the crowd was during this song.

9 Cowboy in the Jungle
I love the original from Son of a Son of a Sailor better. It just doesn't translate very well live for me.

10 Brown Eyed Girl
This one is always an Alpine Valley favorite. Jimmy & the band rocked this one. This song gets a crowd reaction that matches Margaretville.

11 Cheeseburger in Paradise
A great performance of this song.

12 Come Monday
I never get tired of hearing this one. Jimmy did the beach band configuration with Mac, Ralph & Robert which was fantastic.

13 One Particular Harbor
Jimmy talks about Tahiti & how it inspired him to write this song. There was video footage of him in Tahiti from what looks like the mid to late 80's with the old band before the PM band joined. There was Sam Clayton, a young Mike Utley & a young Robert G.

14 License To Chill
The performance of this song puts the Chicago DVD version to shame. The band was in sync on this one.

Intermission
Sports Illustrated Video
Dukes on Sunday Video
Another Saturday Night Video

Note:
I could not understand why the roadies were reconfiguring Gunthie's drum kit. You don't usually make big changes to a drum kit during intermission like they were changing this one. I soon found out why!!!!!!!!!!!!

15 Bo Diddley Tribute

Hey Bo Diddley
Jimmy started to talk about the death of Bo Diddley & was going to do a tribute. I looked on the stage & the guy in the red shirt look familiar. Was it? YES IT WAS!!!! Fingers Taylor on stage!!!! I could not believe it!!!! The performance of 'Hey Bo Diddley' was absolutely incredible. Jimmy, Mac Ralph, Fingers, Cedric Burnside & Lightnin' Malcom jut put on one hell of a performance. Fingers was just unbelievable!!

16 Juke Joint Duo
Jimmy & the band left the stage for Juke Joint & Fingers to perform a song. This was an incredible performance! It was just Fingers, Cedric & Malcom.. What can I say? It was just drums, guitar & harmonica & they filled Alpine Valley with an incredible wall of sound. I was speechless. Has Jimmy and the band ever left the stage and handed the crowd of 40,000 to another band? If not, this has got to be a first!

17 Ass & the Hole
Mac did a fabulous job on this one. As Jimmy promised, Spring break Johnny came out of his shell.

18 Stars On the Water
This is one of listener Ed's favorite songs. The PM band rocked this one out. But, I will have to say, the best live performance of this song was on 'Live by the Bay'. Fingers rocked this one. If only Josh Leo could be here! Right before this song started, Fingers was doing a shot of something with either Mac or Peter. I could not tell.

19 Son of a Son of a Sailor
Jimmy talks about the navy & visiting the troops. They showed video footage of Jimmy & Mac's visit to the sailors on the USS Harry S. Truman. Again, Fingers was just great.

20 Volcano
Fingers was out of control on this one. He did an outstanding performance. Having Fingers on stage really had a positive affect on the band. Every time he was out there, the rest of the band would just turn it up a notch. He would walk around while playing & just look at another band member & that member just would just pour their heart & soul into that particular song they were playing.

21 Making Music for Money
I will have to say that I did not care for Nadir's version of this song from the Pine Knob concert. I always thought that only Jimmy should perform songs from the A1A album. However, Nadir really belted out the lyrics on this performance. I think it was because Fingers was also on stage. Fingers rocked this one.

22 School Boy Heart
Wow! This was another great performance. The band was in sync and everyone just rocked on this one!

23 In The City
The vocal harmonies were just fantastic on this one. This is another example of the band just being in sync tonight. I liked Mac's comments about the first time his picture was taken in public after leaving Mississippi. And I quote "It was the second time a McAnally had his picture taken and there was no bible in one hand & a shotgun in the other".

24 Pirate Looks at 40
A great live performance with the added treat of Fingers on stage. I can't say it enough. Fingers just made this song extra special.

25 Band Intros
Jimmy talked about the article in the Milwaukee Journal/Sentinel on the band.

26 Far Side Of The World
A great performance along with video footage from Jimmy's trip to Cambodia or Vietnam.

27 Southern Cross
I never get tired of this one. They always do a great job with this song & having Fingers on stage gives it that extra touch of class.

28 Margaretville
The crowd just went wild during this one! Fingers was playing on one of Utley's keyboards during this song and him & Utley were just having a great time. Jimmy added the lost verse.

29 Fins
Another great Fingers performance.

30 Rainy Day Women
The band just let loose with this one. It was a great, great performance. Again, Fingers just rocked! He poured everything he had into this song. John Lovell also did a great job on this song. There was also some strange smell or odor in the air during this song.

31 Distantly In Love
I was very impressed with Jimmy performance on this song. In the past he always did the acoustical 'last song' differently that the original version. Songs like 'Stories We Could Tell', 'Lovely Cruise', 'He Went to Paris' were always performed differently when Jimmy does these 'unplugged' encores. Jimmy can do what he wants, he owns the songs but, I always thought they should sound like the original. With 'Distantly in Love' it sounded very much like the original version & was just a great performance.

BEST PERFORMANCES
Fingers Taylor Here Comes Bo Diddley, Rainy Day Women,
Making Music for Money
Mac Ass & the Hole
John Lovell Pencil Thin Mustache & Rainy Day Women
Jimmy Distantly In Love

BEST SONGS
School Boy Heart
In the City
Here Comes Bo Diddley
Come Monday
Changes In Latitudes

I can say that of all the live Buffet concerts I have been to and seen on DVD, this concert was the best. Watching Fingers performing on stage was an unforgettable experience. When I did my review of 'Live by the Bay' I mentioned that Jimmy's old band interacted well with each other and that the PM Band just sort of stayed in their little spot during the concert. Jimmy was real loose that night and was taking jabs at members of the band and they were starting to loosen up a little.

After Fingers took the stage, everything changed. It was like he flipped a switch & the rest of the band came alive. I have never seen the (PM) band interact as well as they did on this night. Fingers was such a motivating factor in the rest of the band's performance that night. Everyone was smiling. Gunthie was smiling & he never smiles. Doyle Grisham was smiling and he rarely smiles. Jim Mayer who moves around a little during the show was just all over the place this night.

You just had to be there!

Listener Ed

p.s. Tina looked great!
06:22 - a week prior, Jimmy, interviewed by none other than Mike Utley (at the July 22 show in Pittsburgh), talked about such an incongruous song appearing in his warm-up playlist.

07:14
- the concert clips were recorded directly off my Sirius radio, as opposed to off the Sirius web stream like I usually do. To get a good signal the radio was outside while we stayed inside to record
Episode 77
. It rained that night, and the radio was protected only by the umbrella of a patio table on Schmoe's deck.
08:39
- I am
dead wrong
on this one. I completely forgot he did indeed do "Fruitcakes" at Pine Knob, with me standing right there to hear it. Although I remained convinced I had not heard it for days after. (Shades of that one long ago concert where Mike did not hearing "Changes in Latitudes".)
17:33
-
Bo Diddley
, in Wikipedia
18:48
-
Juke Joint Duo
, on MySpace
19:23
- "Listen to what I say, not what you hear." Quote of the Episode!
19:51
- "
Skinny Woman
", from YouTube
21:31
- Scott is reading from the bio on the
Juke Joint Duo MySpace page
21:47
-
Calvin Johnson (musician)
vs
Calvin Johnson (American football)
, in Wikipedia
27:53
- as mentioned in
Episode 13
29:11
- the
Milwaukee Journal Sentinel article
, previously mentioned in
Episode 76
31:18
- there's a time-cut here. Schmoe would not usually pee that quickly
35:59
- nope. It's not his ceiling fan. Those internal mics always crackle when using Skype -- but when used with any other application, they sound extremely good.
34:22
- "this long" as in
three hours
!
34:31
- yeah, Greg wishes!
35:02
- obviously this comes from earlier in the recording.
A few things were edited out of this session, not the least of which was an injury at Greg's house where a heavy frozen food fell out of his freezer, injuring the bare foot of a house guest. One giant chunk of conversation involved Scott discovering
Woot.com
had a deal on
bacon salt
-- a product we had never heard of before but took an instant liking to just on the name alone. As Schmoe is always saying "Everything tastes better with bacon." I regret having excised this, especially as Scott has been quick to bring up the subject of
bacon salt
in subsequent recordings. (Plus the fact Mike, now that we're using Skype to contact him in Houston, has permanently labeled the crackle coming from Schmoe's laptop as "bacon noise".)

> Download Episode 78
Posted by
.(JavaScript must be enabled to view this email address)
on 08/05 at 09:40 AM