Episode 79: It's 8:08 on 08/08/08 Somewhere
Show Notes:
Recorded Wednesday, August 6 2008 (10:30 PM - 12:00 AM) via Skype
"How's this for a quick turnaround. But then again we've got to get this one out before the world ends today. For now, the guys give short takes on several topics and plan Buffett playlists for football tailgating. Suggest yours at .(JavaScript must be enabled to view this email address)."

We're back on Skype, but with better results than last time. I used a headset and Schmoe used an external mic so our audio is better.
With all those eight and O's, it's too bad this couldn't've been Episode 80!
00:15 - I'd like to say I was making a joke, but I can't
00:50 - this is the photo Mike forwarded to us (two days after this recording) of the damage from Hurricane Eduardo (or was it Dolly?)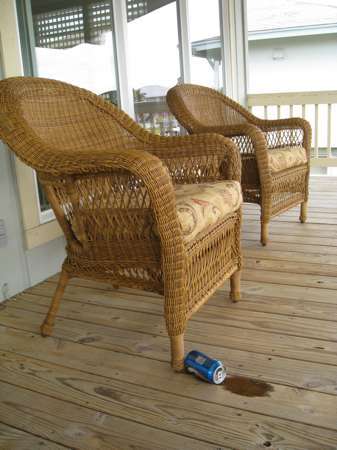 "It was a rough one."
01:00 - my one and only photo of Moose MacGregor's, taken before we went to our homes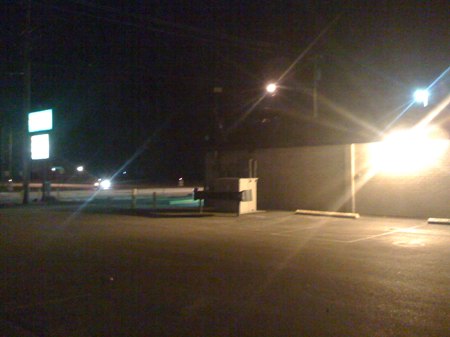 Moose MacGregor's from the parking lot
01:43 - the Today show site no longer archives the video, but Lucy Buffett did leave behind a Wee Burgers recipe
03:21 - InBev makes a bid on Anheuser-Busch
06:24 - the official InBev site
06:48 - Moose MacGregor's on MySpace
07:31 - yeah, right. Greg also thought he was on mute for the hour I heard him put his kids to bed, before Episode 78
07:58 - some more about the Sirius and XM merger, from PC World
12:11 - see, I try t be clever and always end up wrong. The "Judas!" comment, when Bob Dylan went electric, did not occur at the Newport Folk Festival. It happened later, in Manchester, England. So says Wikipedia.
12:38 - I would love to get a copy of this Drew & Mike interview but I can't find it anywhere
16:34 - Jock Jams 1
and/or Jock Jams 2
, at Amazon
17:25 - Carnival Steel Drum Collections
, at Amazon
17:55 - whoops! Schmoe set off the double entendre alarm! Usually Scott's to blame.
18:12 - the Mayans and 2012. it must be true. It has its own domain!
19:17 - that one goes out to all you Beatles Christmas record fans out there
20:01 - as discussed in Episode 40
A few things were edited out of the recording, not the least of which was an injury at Greg's house where a heavy frozen food fell out of his freezer, injuring the bare foot of a house guest.






> Download Episode 79
Posted by
.(JavaScript must be enabled to view this email address)
on 08/08 at 07:08 AM